TransforMission: Making Disciples through Short Term Missions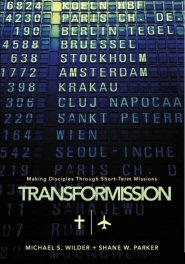 TransforMission: Making Disciples through Short Term Missions
•
B&H 2010
Runs on Windows, Mac and mobile.
Your Custom Discount
Reg. Price $15.95
Sale Price $12.95
Your Price $12.95
You Save $3.00 18%
Your Price
What's Pre-Pub?
$12.95
Reg.: $15.95
Print: $19.99
Overview
Remarkably, 30 percent of North American teenagers—millions of people between the ages of 13 and 17—have engaged in religious missions or service projects. Building on this statistic, the authors of TransforMission believe that short-term mission is one way God is taking the Gospel to the nations and transforming the lives of these student participants.
Writing to youth ministers, missiologists, church leaders, adult volunteers, and post high school students, they assess strategies for further promoting this kind of involvement by exploring several questions, including:
What mechanisms is God employing to achieve this advance in mission?
What is taking place in the lives of believers who are obediently participating in the fulfillment of the Great Commission?
What are the theological and theoretical foundations for the life transformation that is occurring?
What is the most effective means of conducting short-term mission experiences?
In the Logos edition, all Scripture passages in TransforMission are tagged, appear on mouseover, and link to your favorite Bible translation in your library. With Logos' advanced features, you can perform powerful searches by topic or Scripture reference—finding, for example, every mention of "Gospel" or "mission."
Key Features
Assesses strategies for promoting mission involvement
Offers tools for effective mission environments
Examines the biblical basis for missions
Contents
Part I: Short-Term Mission in Perspective: Exploring the Bigger Picture

Holding the View-Master: The Where, What, and Who of Global Mission
What Students Are Doing: The Yesterday and Today of Student Missions
What People Are Saying: The Two Sides of Short-Term Mission
What Researchers Are Finding: Rose-Colored Glasses, Blinders, and Bifocals?

Transformation in Perspective: Examining the Process and Principles

Overcoming Inconsistencies for a Change: The Promise
Overcoming Inconsistencies for a Change: The Power
Overcoming Inconsistencies for a Change: The Premise
Overcoming Inconsistencies for a Change: The Practice
Overcoming Inconsistencies for a Change: The People

The Transformissional Dimensions of Short-Term Mission: Getting the I.D.E.A.

Influence: Surround Them with Relationships
Develop: Shape Them through Process
Engage: Mobilize Them for Challenge
Assess: Evaluate Them for Change
Praise for the Print Edition
A tremendous help for youth pastors as they seek to understand the integration of youth discipleship and short-term missions . . . a helpful Kingdom resource.
—M. David Sills, A. P. and Faye Stone Professor of Christian Missions and Cultural Anthropology, The Southern Baptist Theological Seminary
In a generation that values social justice, the place of missions and ministry is a needed addition. I appreciate that the compassion for the world comes alongside the passion of Christ in this very pragmatic yet well-researched addition to the body of work in the area of missions and ministry.
—R. Allen Jackson, professor of youth education and director of the Youth Ministry Institute, New Orleans Baptist Theological Seminary
Every youth minister who desires to develop globally minded disciples of Jesus Christ must read this book!
—Timothy Paul Jones, professor of family ministry, The Southern Baptist Theological Seminary
I look forward to the significant impact TransforMission will make in the fields of student ministry and global missions.
—Welsey Black, professor of student ministry, Southwestern Baptist Theological Seminary
Before you start planning your next short-term mission trip, you must read TransforMission and attempt to integrate these insights from Wilder and Parker.
—Mark H. Senter III, professor of educational ministries, Trinity Evangelical Divinity School
Product Details
Title: TransforMission: Making Disciples through Short Term Missions
Authors: Michael S. Wilder and Shane W. Parker
Publisher: B&H
Publication Date: 2010
Pages: 256
About the Authors
Michael S. Wilder is the associate dean of doctoral studies at The Southern Baptist Theological Seminary in Louisville, Kentucky.
Shane W. Parker is a veteran youth pastor and researcher in the field of youth ministry and missiology. He has served as a student event and conference speaker throughout North America and in Southeast Asia.
Sample Pages from the Print Edition