A. W. Tozer Upgrade Collection (11 vols.)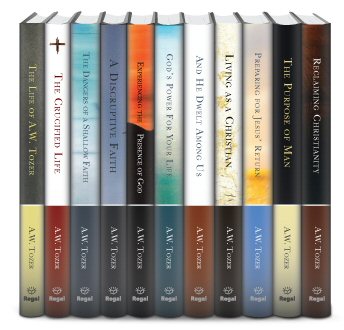 Overview
In the A. W. Tozer Upgrade Collection, James L. Snyder, an authority on Tozer's life and ministry, presents never-before-published teachings by the renowned twentieth-century pastor and theologian. The collection contains insights on
The Cross' significance
Spiritual laziness
The testing of believers' faith
The Holy Spirit's transformational work
What it means to be a Christian
The purpose of prophesy
And more!
These timeless insights will challenge and encourage you on your spiritual walk with Christ. The collection also includes Tozer's biography. The Logos Bible Software edition of the A. W. Tozer Upgrade Collection is designed to encourage and stimulate your study and understanding of the Christian life. Scripture passages link directly to your English translations and to the original language texts, and important concepts link to dictionaries, encyclopedias, and a wealth of other resources in your digital library. In addition, you can perform powerful searches by topic and find what other authors, scholars, and theologians have to say about the Holy Spirit, the Incarnation, and faith.
Key Features
Tozer's biography
Tozer's never-before-published teachings
Insights into Christian living
Product Details
Title: A. W. Tozer Upgrade Collection
Author: A. W. Tozer
Editor: James L. Snyder
Publisher: Regal
Volumes: 11
Pages: 2,426
About A. W. Tozer
Aiden Wilson Tozer (1897–1963) was born on a small farm in what is now Newburg, Pennsylvania. His family moved to Akron, Ohio, when he was just a young boy. At age 17, Tozer heard a street preacher, responded to the calling of Christ, and began his lifelong pursuit of God. After becoming an active witness of Jesus as a lay preacher, he joined The Christian and Missionary Alliance and was soon serving as the pastor of West Virginia's Alliance Church. In 1928, he transferred to the Southside Alliance Church in Chicago, and his ministry continued there for 31 years. During that time, he preached on the Moody Bible Institute's radio station. In the 1940s, Tozer was invited to speak at Wheaton College, and seldom a year passed after World War II that he didn't preach in the college's Pierce Chapel. In 1950 he became the editor of The Alliance Life magazine and served in that capacity until his death.
Self-taught, with no formal Bible training, Tozer has been called a twentieth-century prophet within his own lifetime. Through years of diligent study and constant prayer, he sought the mind of God. A master craftsman in the use of the English language, he was able to write in a simple, cogent style the principles of truth he had learned. For Tozer, "there was no substitute for knowing God firsthand." He wrote many of his books with one idea in mind—that his reader would achieve the heart's true goal in God and maintain that relationship with Him.
Tozer moved to Toronto in 1959 and spent the final years of his life as the pastor of Avenue Road Church. He and his wife, Ada, lived a simple, non-materialistic lifestyle and let much of the royalties from his books go to those in need. The Tozers had seven children.
About James L. Snyder
James L. Snyder is the pastor of the Family of God Fellowship in Ocala, Florida, a Christian and Missionary Alliance church (1973–present). He is recognized as an authority on the life and ministry of A. W. Tozer, and has written a number of books as well as numerous essays in Christian periodicals about Tozer. He has a weekly radio ministry, writes a weekly syndicated newspaper column carried by 35 newspapers, as well as over a dozen monthly magazines, both online and print.