Studies in Karl Barth Collection (2 vols.)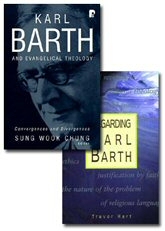 Overview
The Studies in Karl Barth Collection features scholarly reflections on the thought of this towering twentieth-century theologian. The two volumes explore a variety of aspects of Barth's thought, including his relationship with evangelical theology and his views on natural theology, pluralism, the doctrine of the Trinity, ethics, and much more. Both volumes maintain throughout a dialogue with other leading theologians and Barth experts, such as Alister McGrath, Kevin Vanhoozer, Gabriel Fackre, Emil Brunner, and Hans Küng.
Barth has long been close to the center of theological debate. These vibrant studies of his theology reveal the continuing relevance and vitality of this important thinker.
Be sure to check out Barth's Church Dogmatics, also available from Logos.
Product Details
Title: Studies in Karl Barth Collection (2 vols.)
Publisher: Paternoster
Volumes: 2
Pages: 548
Individual Titles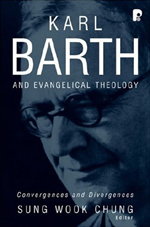 Karl Barth and Evangelical Theology: Convergences and Divergences
Author: Sung Wook Chung
Publisher: Paternoster
Publication Date: 2006
Pages: 352
Karl Barth and Evangelical Theology explores the convergences and divergences between the theology of Karl Barth and historic evangelical faith, and on that basis presents ways for evangelicals to dynamically engage with Barth's theology. It is a balanced appraisal of Barth's theology from a solidly evangelical perspective and features contributions by many leading theologians, including Alister McGrath, Kevin Vanhoozer, Gabriel Fackre, and Henri Blocher.
Karl Barth is undoubtedly one of the most influential Christian theologians of the twentieth century. However, the reception of many evangelicals to Barth's theology has been complicated. Some evangelical theologians rejected his theology, arguing that his view of Scripture is inconsistent with historic evangelical views. Others accepted wholeheartedly Barth's emphasis on the Word of God and Christ-centered interpretation of the Gospel.
This collection ought to do much to stimulate fresh evangelical engagement with one of the great gospel thinkers of the modern Christian tradition.
—Professor John Webster, University of Aberdeen
Sung Wook Chung is Assistant Professor of Christian Theology at Denver Seminary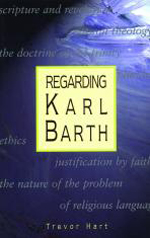 Regarding Karl Barth
Author: Trevor Hart
Publisher: Paternoster
Publication Date: 1999
Pages: 196
In response to increasing world interest in Barth's theology, Trevor Hart provides a timely collection of essays evaluating the work of Karl Barth. Subjects addressed include: scripture and revelation, natural theology; pluralism; the doctrine of the Trinity; Justification by faith; and the nature and problems of religious language and ethics.
Regarding Karl Barth is a scholarly critique of this influential theologian, addressing issues of relevance to general evangelical readers as well as scholars, and dialoguing with other theologians, notably Lindbeck, Brunner and Küng.
In this thought-provoking and clearly written book Trevor Hart wrestles with the theology of Karl Barth and compares Barth's thinking with other prominent contemporary theologians in a successful effort to articulate his own important theology. This book is not uncritical of Barth's theology, but instead sees it as a significant way of illustrating new theological loci such as justification, revelation, incarnation, morality, analogy and the Trinity . . . This book is must reading for students of Karl Barth's theology and for all serious theologians.
—Dr. Paul D. Molnar, Professor of Systematic Theology and Chair, Division of Humanities, St. John's University, New York
Lucid, well informed, and judicious, this book offers an excellent orientation to Barth's work for those starting to explore its riches, and will stimulate fresh thinking on the part of seasoned readers. In sum: highly recommended.
—John Webster, Lady Margaret Professor of Divinity, University of Oxford
Professor Trevor Hart, currently at the University of St. Andrews, teaches and publishes in Christian doctrine and systematic theology. He is the author of a number of books, including Faith Thinking, The Waiting Father: Thomas Erskine of Linlathen, Justice the True and Only Mercy: Essays on the Life and Theology of Peter Taylor Forsyth, and Hope Against Hope: Christian Eschatology in Contemporary Context. He is also the General Editor of The Dictionary of Historical Theology.
More details about these resources