Nelson Searcy Collection (7 vols.)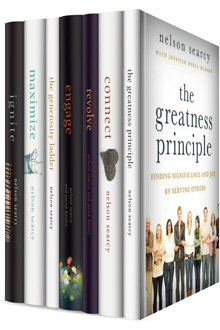 Overview
For the past decade, Nelson Searcy, pastor, speaker, coach, and church strategist, has devoted his career to helping pastors, church leaders, and laypeople create healthy, thriving churches. In the Nelson Searcy Collection, you'll find step-by-step, biblically grounded, proven tips to:
Reach the unchurched in your community
Break through church-growth barriers
Encourage stewardship and generosity within your congregation
Handle church finances
Develop and implement creative worship services
Double your church's volunteer base
This collection also presents three volumes for laypeople that examine worship, help analyze ways to balance personal finances, and emphasize the importance of serving others. Perfect for students, pastors, church leaders, and laypeople alike, the Logos editions of these works are fully searchable and easily accessible. Scripture passages link directly to your favorite Bible translation, and important theological concepts link to dictionaries, encyclopedias, and a wealth of resources in your digital library.
Key Features
Gives leaders the tools needed for successful church growth
Addresses ways church leaders and members c an worship, serve, and give in a godly manner
Discusses several different challenging areas to manage within a church community
About the Authors
Nelson Searcy served as the director of The Purpose Driven Community at Saddleback Church before starting The Journey Church of the City in New York City in 2002. He and his 2,000-member church appear routinely on lists such as The 50 Most Influential Churches and The 25 Most Innovative Leaders. The Journey is a multi-site church with locations across New York City and Boca Raton, Florida. His newsletter for pastors and church leaders, Church Leader Insights, now reaches more than 80,000 subscribers and continues to grow by hundreds each month.
Jennifer Dykes Henson is a freelance writer based in New York City. She has served as a writer/producer and ministry consultant to organizations across the East Coast. Jennifer also worked with Charles Stanley as the manager of marketing communications for In Touch Ministries in Atlanta, Georgia.