Life of Edward Bouverie Pusey (4 vols.)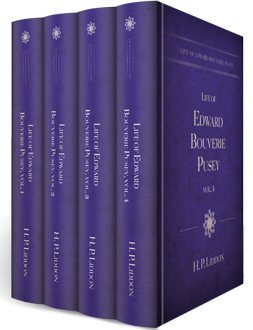 Overview
Edward Bouverie Pusey (pronounced PEW-zee) was one of the best-known leaders in the Victorian Church of England. Along with John Henry Newman and John Keble, Pusey became one of the leaders of the Oxford Movement. After Newman's conversion to the Roman Catholic Church, Pusey became the de facto leader of the movement, giving guidance and acting as a lightning rod for criticism. Pusey believed that Christians had become too autonomous, ignoring necessary aspects of the Christian life because they were inconvenient or uncomfortable. He sought to renew the practice of fasting, and emphasized the importance of regular attendance at worship services. Pusey attempted to restore the regular confession and a high view of the Eucharist, which he believed were central aspects of the Church's life that had been lost during the Reformation. He was deeply pious and something of a mystic. His firm convictions made him a fierce adversary, while his gentle spirit made him a dear friend.
Life of Edward Bouverie Pusey was written by H. P. Liddon. A well-known preacher in his own right, Liddon was a great admirer and disciple of Pusey. He is often considered one of the last of the Tractarians.
The Logos edition of Life of Edward Bouverie Pusey is completely indexed, enabling near-instant search results with a click. It is linked with other resources in your library for easy cross-reference. You can pull up Newman's Apologia and compare Newman's account of events with Liddon's. Scripture references appear on mouseover, and Greek and Hebrew references link to language tools. Grow in your knowledge and love of the faith while learning about the life of this great man.
Key Features
Full-page illustrations
Annotated tables of contents
Appendix listing all the Tracts for the Times
Appendixes listing all of Pusey's published works and sermons
Historical sketch of Pusey's family
Extensive indexes of names and places
Product Details
Title: Life of Edward Bouverie Pusey
Author: H. P. Liddon
Publisher: Longmans, Green, and Co.
Volumes: 4
Pages: 1,958
About H. P. Liddon
Henry Parry Liddon (1829–1890) was born at North Stoneham, Hampshire, England. He attended King's College School and earned a second-class degree from Christ Church College, Oxford, in 1850. He was vice-principal of the Cuddesdon theological college from 1854 to 1859, and then returned to Oxford. He was given a prebend at Salisburgy Cathedral in 1864 and was made canon of St. Paul's Cathedral in 1870. His sermons at St. Paul's often attracted crowds of 3,000 to 4,000. In 1870, he became professor of exegesis at Oxford. Liddon sought to increase communication with other denominations, meeting with the Old Catholics in Munich and travelling to Moscow to visit with Russian Orthodox clergy. Liddon was close friends with Lewis Carroll, who accompanied him on the trip to Moscow.
More details about these resources