Cascade Companions Early Church Studies (3 vols.)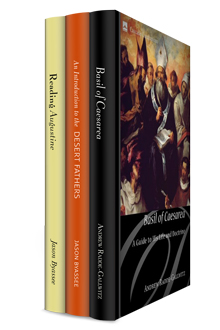 Cascade Companions Early Church Studies (3 vols.)
•
Cascade 2006–2012
Overview
The Christian theological tradition provides an embarrassment of riches: from Scripture to modern scholarship, we are blessed with a vast and complex theological inheritance. And yet this feast of traditional riches is too frequently inaccessible to the general reader. The Cascade Companions series addresses the challenge by publishing books that combine academic rigor with broad appeal and readability. They aim to introduce nonspecialist readers to that vital storehouse of authors, documents, themes, histories, arguments, and movements that comprise this heritage with brief yet compelling volumes. Cascade Companions Early Church Studies focuses on the writings and theology of key third-to-fifth-century figures: the desert fathers, St. Basil, and St. Augustine.
The Logos edition connects these early church studies with the key figures' works and theology themself. Read these volumes side-by-side with the original works and look for ways to apply it to your life. Scripture references appear on mouseover and references to the saints and Church Fathers lead you to their sources, giving you more study potential than ever before.
Key Features
Analyzes the purpose of St. Augustine's Confessions
Studies the desert fathers' Sayings, their theology, and their lives
Presents St. Basil's theology
Individual Titles

The Confessions of St. Augustine is one of the few Christian classics that is still widely read in the secular academy. Yet, oddly enough, it is not often read in the manner Augustine appears to have intended and in which the church read it for centuries: as a model of conversion, devotion, friendship, and the love of God. This book is a companion for any reader of the Confessions—whether in an academic, ecclesial, or devotional context—informed by the latest scholarship yet always directed toward pushing the reader, with Augustine, toward God.
Augustine's Confessions are a glorious exploration of a living, gracious God. We could have no better guide through Augustine than one of his great friends, Jason Byassee. For anyone who has longed for the living God, for anyone who wants to explore the depth and breadth of the human soul, Byassee opens up new dimensions of this classic of the Christian faith.
—William Willimon, bishop, United Methodist Church, North Alabama
Jason Byassee's learned, intimate, and engaging guide to Augustine's Confessions is a delight to read and a wonderful resource for everyone who wishes to become the faithful and discerning reader Augustine so fervently desired.
—Carol Zaleski, professor of world religions, Smith College
Jason Byassee is an ideal guide to the Confessions: lucid, unpretentiously learned, witty, and above all generous—to his subject, to his fellow scholars, and to the reader.
—John Wilson, editor, Books & Culture
Jason Byassee received his PhD in theology from Duke University and is currently serving as a fellow in theology and leadership there. He also serves as senior pastor of Boone United Methodist Church in the Western North Carolina Conference. Byassee is author of Praise Seeking Understanding: Reading the Psalms with Augustine.

The desert fathers wanted to get away from a church co-opted by empire and a Christian faith grown cold and listless. They retreated to the desert to do battle against demons and against their own worst desires. They had no intention of being famous; yet ironically their Sayings have inspired millions of imitators over the centuries. This guide is meant to accompany a reading of the Sayings of the Desert Fathers, in hopes that readers with lives quite different than those third- and fourth-century dwellers of the Egyptian desert might nevertheless come to imitate their lives of poverty, chastity, and obedience; and more importantly, that readers might grow more imaginative and passionate in their following of the same Lord.
Contrary to the Protestant caricature, the Egyptian monks of the fourth century went to the desert not to escape reality, but to confront it. They fled the disorienting distractions of city life so that in the quiet of their cells and their chapels they might overcome the self-will of sin and reorient their thoughts, affections, and actions wholly toward God. Jason Byassee's An Introduction to the Desert Fathers is an excellent companion to all who seek to glean wisdom from the monks' encounters with the realities of God and of their sin. By drawing together the world of fourth-century monasticism with our consumerist culture of the twenty-first century, Byassee helps us discern the call of the desert today.
—J. Warren Smith, associate professor of historical theology, Duke Divinity School
In this beautiful, informative, probing, and wise introduction to the spirituality of the desert, Byassee both immerses us in, and invites us to embrace, an older, sometimes alien, way of inhabiting our relationship with the triune God.
—Lauren F. Winner, assistant professor of Christian spirituality, Duke Divinity School
Jason Byassee has established himself as the master of explaining complex subjects and helping us understand why they matter. He has done it again with the desert fathers.
—James C. Howell, pastor, Myers Park United Methodist Church, Charlotte, NC
Making the desert accessible might seem a paradoxical goal. Nevertheless, just as the sick and not the healthy need doctors, so do we affluent and self-indulgent moderns need the desert fathers. Jason Byassee is the perfect guide—an intrepid all-terrain interpreter in the heart of the desert. He always knows what we are thinking and never forgets that the severity of the fathers is disconcerting to us. Yet he thinks with these ancient monks as well—with their profundity and difficulty—and never lets us get away with dismissing a single saying cavalierly. If you have ever struggled with self-control, lust, materialism, prayer, humility, obedience, patience, or any of the other vices and virtues addressed in these chapters, An Introduction to the Desert Fathers is for you.
—Timothy Larsen, McManis Professor of Christian Thought, Wheaton College
Jason Byassee's Introduction to the Desert Fathers is presented in a spirit of humility that befits the subject. He offers simple yet rich engagements with the Sayings that use humor, insight, and life experience to prompt readers to reflect with the same tools. Readers who are looking for a place to begin their interaction with the often paradoxical teachings of the desert fathers would do well to begin here.
—Amy Frykholm, associate editor, The Christian Century
. . . What sets this little book apart from others on desert spirituality is Byassee's ability to help modern readers understand and practice the wisdom the desert monks offer.
—Evangelical Review of Theology
Jason Byassee received his PhD in theology from Duke University and is currently serving as a fellow in theology and leadership there. He also serves as senior pastor of Boone United Methodist Church in the Western North Carolina Conference. Byassee is author of Praise Seeking Understanding: Reading the Psalms with Augustine.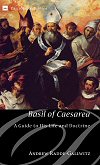 Studying the early church can feel like entering a maze of bishops, emperors, councils, and arcane controversies. This book introduces early Christian theology by focusing on one particularly influential figure, Basil of Caesarea (ca. AD 330–378). It views Basil against the backdrop of a Roman Empire that was adopting Christianity. In Basil's day, Christians were looking for unity in the teaching and practice of their faith. This study acquaints the student with Basil's brilliant—and often neglected—theological writings. In particular, Saint Basil's reflections on the Trinity emerge from these pages as fascinating and illuminating testimonies to the faith of early Christians.
For decades, Basil's thought was overshadowed by the reputation of his brother, Gregory of Nyssa. But in recent years a new generation of scholarship—Völker Drecoll, Mark DelCogliano, Philip Rousseau, and Andrew Radde-Gallwtiz—has shown us anew the power of Basil as theologian . . . This concise and elegant discussion offers us the best short introduction to Basil available in any language.
—Lewis Ayres, Bede Professor of Catholic Theology, Durham University
Basil of Caesarea's gifts as church politician and monastic founder have attracted much attention in recent scholarly literature, though his importance as a thinker and theologian had been neglected in favor of his younger brother, Gregory of Nyssa. In this clearly written book, Andrew Radde-Gallwitz helps us see Basil's brilliance as a theologian. Basil of Caesarea establishes Radde-Gallwitz as one of the finest scholars of Christian late antiquity.
—Andrew Louth, emeritus professor of patristic and Byzantine studies, Durham University
Andrew Radde-Gallwitz is assistant professor of theology at Loyola University, Chicago. He is the author of Gregory of Nyssa and Transformation of Divine Simplicity.
Product Details
Title: Cascade Companions Early Church Studies
Series: Cascade Companions
Publisher: Wipf & Stock
Volumes: 3
Pages: 426
More details about these resources