Baker Old Testament Studies Collection (5 vols.)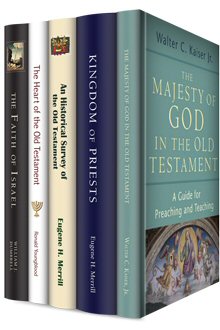 Baker Old Testament Studies Collection (5 vols.)
•
Runs on Windows, Mac and mobile.
Overview
The Baker Old Testament Studies Collection has been compiled to provide a comprehensive Old Testament library to all who are interested in Old Testament studies. This incredible collection from Baker Publishing Group includes vital resources for the scholar, pastor, student, and interested lay person. Explore the world of the Old Testament with four of the most prominent evangelical scholars in the field. Learn the complete history of the Hebrew people from the time of the Patriarchs to time of rebuilding under Ezra and Nehemiah with Kingdom of Priests and An Historical Survey of the Old Testament. Gain insight to the incredible vision of the Old Testament through in depth analyses of Old Testament theology with The Faith of Israel. Also, learn how to carefully teach and preach this remote subject matter to a contemporary audience. The Baker Old Testament Studies Collection intends to supply every student of the Bible with practical and insightful material for an exhaustive study of the Old Testament.
The added benefit of owning this entirely searchable electronic collection through Logos will help streamline the research and lesson planning process. With the Logos edition you get an abundance of applicable, insightful resources. You can easily research the Old Testament and access an assortment of useful resources and perspectives from a variety of pastors and theologians.
Key Features
Historical, theological, and exegetical surveys of the Old Testament
Monumental works from prominent evangelical scholars
Extensive footnotes and bibliographies for further study
Product Details
Title: Baker Old Testament Studies Collection
Publisher: Baker
Volumes: 5
Pages: 1,568