The Works of Sydney Smith (3 vols.)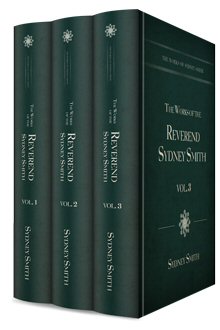 Overview
"The object of preaching," said Sydney Smith, "is constantly to remind mankind of what mankind are constantly forgetting; not to supply the defects of human intelligence, but to fortify the feebleness of human resolutions." Whatever else Smith was doing with his life, whether a scholar, a tutor, a writer, or a clergyman, he was also a preacher. Moreover, he was a preacher with a remarkable ability to create witty, quotable phrases that carry deeper meaning. He published satirical letters under the pen name Peter Plymley, protesting the unequal treatment of Roman Catholics. As an Anglican minister, Smith was well loved by all the people of his parish for supporting their practical needs as well as their spiritual. Smith kept up an extensive correspondence with various political figures throughout his life and was a tireless advocate of religious freedom.
The Works of Sydney Smith brings the wit and wisdom of Sydney Smith into your Logos library. Scripture passages appear on mouseover. Illustrate your sermon using Smith's brilliant turns of phrase. Jump to these quotable phrases with a click using Logos' powerful search tools.
Key Features
All of Smith's articles originally published in the Edinburgh Review
Smith's collected correspondence
Selected sermons and speeches
A posthumously published essay on the Irish Roman Catholic Church.
Individual Titles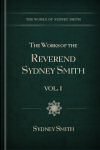 Volume one contains 37 of Smith's articles published in the Edinburgh Review.
Dr. Parr
Dr. Rennell
John Bowles
Dr. Langford
Archdeacon Nares
Matthew Lewis
Neckar's Last Views
Australia
Fievée's Letters on England
Island of Ceylon
Delphine
Thoughts on the Residence of the Clergy
Catteau, Tableau des Etats Danois
Wittman's Travels
Edgeworth on Bulls
Account of Sierra Leone
Trimmer and Lancaster
Parnell and Ireland
Travels from Palestine
Methodism
Indian Missions
Letter on the Curates' Salary Bill
Catholics
Proceedings of the Society for the Suppression of Vice
Methodism
Hannah More
Characters of Fox
Observations on the Historical Work of the Right Hon. Charles James Fox
Professional Education
Female Education
Public Schools
Disturbances at Madras
Toleration
Charles Fox
Bishop of Lincoln's Charge
Letters Written in a Mahratta Camp during the Year 1809
Mad Quakers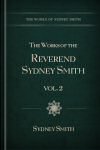 Volume two contains 25 of Smith's articles published in the Edinburgh Review.
Madame D'Epinay
America
Game Laws
Botany Bay
Chimney Sweepers
Mission to Ashantee
America
Poor-Laws
Ireland
Anastasius
Spring Guns
Prisons
Man Traps and Spring Guns
Scarlett's Poor-Bill
Prisons
Persecuting Bishops
Botany Bay
Game Laws
Cruel Treatment of Untried Prisoners
America
Memoirs of Captain Rock
Bentham on Fallacies
Waterton
Granby
Hamilton's Method of Teaching Languages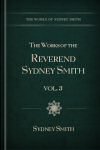 Volume three contains a collection of articles, letters, speeches, and sermons, and a fragment of an essay on the Irish Roman Catholic Church.
Product Details
Title: The Works of Sydney Smith
Author: Sydney Smith
Publisher: Longman, Brown, Green, and Longmans
Volumes: 3
Pages: 1,460
About Sydney Smith
Sydney Smith (1771–1845) was born in Woodford, Essex, England, to a wealthy merchant family. Smith attended Winchester College as a boy and earned an MA from New College, Oxford, in 1796. He was ordained the same year and took up a curacy in the village of Netheravon. The village squire hired Smith to tutor his son, and Smith accompanied the boy to the University of Edinburgh in 1798. Smith developed a reputation as a good preacher while in Edinburgh and maintained that reputation when he moved to London in 1803. In 1809, he moved to Yorkshire and began publishing his "Peter Plymley" series of letters, which argued for greater freedoms for British Catholics. Smith was given a prebend in Bristol Cathedral in 1828 and a canonry at St. Paul's Cathedral in 1831. Throughout his career as a clergyman, Smith was a contributor to the Edinburgh Review.
More details about these resources