Thomas Dubay Collection (2 vols.)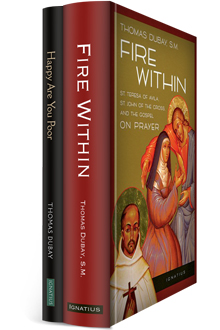 Overview
Early Christians—including Christ himself—lived in poverty and humility, and found sustenance in prayer. What does that example mean for those of us who don't? Thomas Dubay, Roman Catholic priest and spiritual director, studies the examples of Christ, John of the Cross, and Teresa of Avila to find how everyday Christians can live in simplicity while enjoying the fruit of God's magnificent creation. Further still, he teaches Christians how to devote themselves to holiness through prayer without losing sight of the importance of family and service.
Dig into your spiritual studies with these volumes in Logos Bible Software. Every time you open the app, Logos brings you back to where you left off, saving you time. Scripture references appear on mouseover, showing you the full reference without leading you away from your book.
Key Features
Pastoral studies on poverty and prayer for the everyday Christian
Timeless spiritual instruction from Jesus, John of the Cross, and Teresa of Avila
Product Details
Title: Thomas Dubay Collection
Author: Thomas Dubay
Publisher: Ignatius Press
Volumes: 2
Pages: 536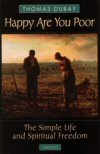 To the modern mind, the concept of poverty is often confused with destitution. But destitution emphatically is not the Gospel ideal. A love-filled sharing frugality is the message, and Happy Are You Poor explains the meaning of this beatitude lived and taught by Jesus himself. But isn't simplicity in lifestyle meant only for nuns and priests? Are not all of us to enjoy the goodness and beauties of our magnificent creation? Are parents to be frugal with the children they love so much?
The renowned spiritual writer Dubay gives surprising replies to these questions. He explains how material things are like extensions of our persons and thus of our love. If everyone lived this love there would be no destitution.
After presenting the richness of the Gospel message, more beautiful than any other world view, he explains how Gospel frugality is lived in each state of life.
Who does not want to be happy, enjoy a simple life, and revel in spiritual freedom? Fr. Dubay explains persuasively how we, through our blessed spiritual poverty, can detach ourselves from material goods and open ourselves to that source of lasting joy.
—Donald DeMarco, professor emeritus of philsophy, St. Jerome's University
Father Dubay, an outstanding spiritual writer, has taken on the thorny problem of poverty and how it really relates to Christians. With his usual spiritual acumen Father Dubay looks at this question and gives every person something serious to think about regarding personal poverty, a value that speaks to us on every page of the Gospel.
—Benedict J. Groeschel, professor of pastoral psychology, St. Jerome's University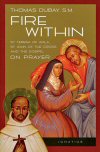 This book is the fruit of Thomas Dubay's many years of study and experience in spiritual direction and in it he synthesizes the teachings on prayer of the two great doctors of the Church on prayer—St. John of the Cross and St. Teresa of Avila—and the teaching of Sacred Scripture.
But the teaching that Dubay synthesized is not collected from Teresa and John for contemplatives alone. It is meant for every Christian and is based on the Gospel imperative of personal prayer and the call to holiness. All the major elements of these great teachers are ordered, commented on, and put in the context of their scriptural foundations. Here is an outstanding book on prayer and the spiritual life written by one of the best spiritual directors and retreat masters of our time, and based on the writings of the Church's two greatest mystical doctors.
This book is a gold mine for any Christian intent on making progress in prayer. Any reader who appreciates the relevance of the spiritual in these troubled times will find Fire Within difficult to put down. A work of art by a master of the spiritual life.
—Benedict J. Groeschel, professor of pastoral psychology, St. Jerome's University
About Thomas Dubay
Thomas Dubay is a retreat master and spiritual director for religious communities around the country, as well as a highly regarded speaker at conferences and retreats for lay people in North America. He has hosted five different 13-part television series on spirituality and prayer, and is the best-selling author of such acclaimed spiritual works as Deep Conversion/Deep Prayer and Prayer Primer.
More details about these resources