Warren W. Wiersbe Collection (17 vols.)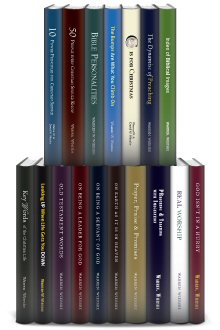 Overview
"The Christian life is not a playground; it is a battleground, and we must be on our guard at all times."
In this collection, Warren W. Wiersbe, pastor, teacher, and author, shares practical insights and encouragement from his many years of ministry. Wiersbe lays out practical principles for Christian living and defines complicated theological terms like "intercession," "sanctification," and "regeneration." He takes a biblical approach to leadership and service, provides valuable insights on preaching, worship, and prayer, and illustrates ways Christians can reach new levels of spiritual maturity.
The Warren Wiersbe Collection encourages believers to trust in God's promises. It offers two volumes of hope and comfort for those dealing with depression, loneliness, or frustration. Two daily devotionals focus on Psalms and bite-sized meditations from Scripture. The collection also includes several biblical reference tools, including:
An encyclopedia of biblical heroes/heroines
An index of 400 similes, metaphors, and symbols found in Scripture
An alphabetical analysis of the many contexts surrounding the Christmas story
50 biographical sketches of faithful Christian men and women from the fourteenth to the twentieth centuries
Perfect for students, pastors, and laypeople alike, the Logos edition of these works is fully searchable and easily accessible. Scripture passages link directly to your favorite Bible translation, and important theological concepts link to dictionaries, encyclopedias, and a wealth of resources in your digital library.
Key Features
Includes insights on prayer, worship, preaching, teaching, leadership, servanthood, and Christian living
Provides two devotionals for Scripture meditation
Contains four essential reference works
Product Details
Title: Warren W. Wiersbe Collection
Author: Warren W. Wiersbe
Publisher: Baker
Volumes: 17
Pages: 3,541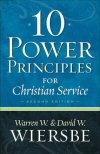 In this thoughtful and practical book, Warren W. Wiersbe and David W. Wiersbe offer 10 principles for Christian service that always work—at all times and in all places—inviting Christians to get back to the basics of serving others. These simple, practical principles will inspire and instruct you, helping you to follow Jesus in your daily life.
Whether you have been a pastor for one week or forty years, you will be encouraged and challenged.
—Joseph Stowell, president, Cornerstone University
Here is a book that cuts through the welter of advice offered today and brings us back to the basics.
—Erwin Lutzer, senior pastor, Moody Church, Chicago, IL
A classic in the essentials—things that must be in order for other things to be.
—Howard Hendricks, distinguished professor emeritus of Christian education and leadership, Dallas Theological Seminary
This is a ministry-changing read!
—R. Kent Hughes, emeritus senior pastor, College Church, Wheaton, IL
David W. Wiersbe has been a pastor for over 30 years and is currently serving his fourth church. He is author of Gone But Not Lost and The Dynamics of Pastoral Care, as well as co-author of four books with his father.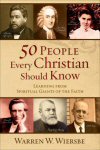 We all need inspiration to lead lives that honor God. When our faith is weak or the pressures of the world seem overwhelming, remembering the great men and women of the past can inspire us to renewed strength and purpose. Our spiritual struggles are not new, and the stories of those who have gone before can help lead the way to our own victories.
50 People Every Christian Should Know gives a glimpse into the lives of such people as:
Fanny Crosby
Amy Carmichael
Combining the stories of 50 of these faithful men and women, beloved author Warren W. Wiersbe offers you insight and encouragement for life's uncertain journey. This book combines Wiersbe's Living with the Giants and Victorious Christians You Should Know, plus a new preface and two new biographies.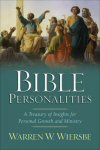 A good biographical example can captivate listeners and impart a strong message. But many times these effective examples are hard to find, requiring in-depth research and more time than a busy pastor or teacher can spare.
Internationally known writer and former pastor Warren W. Wiersbe offers a valuable resource for effective sermon and lecture preparation. Opening up the lives of Bible heroes and heroines—from the well-known names such as Abraham and Jeremiah to the lesser-known Demas and Zedekiah—Wiersbe presents a wealth of helpful information in an encyclopedic format that's easy to read and easy to implement. Each entry includes a description of the context in which that person lived as well as how they related to others and to God. Quotes from respected Bible scholars demonstrate how these biographies have captivated audiences around the world.
Exploring Bible biographies is a perennial teaching technique. Through the lives of biblical characters, listeners and students can experience life change through their example. With Bible Personalities as your guide, you will discover how to deliver a message that will resonate with you to the core.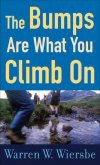 Are there bumps in your path? Use them to climb higher!
We can't avoid the bumpy spots on life's path, but we can make the most of them. In The Bumps Are What You Climb On, trusted Bible teacher Warren W. Wiersbe offers solid hope and comfort for those times when you are faced with frustration, depression, disappointment, or loneliness. With wisdom straight from God's Word, these 30 brief and accessible chapters guide you through those tough times and help you respond with strong faith.
These meditations will help you rediscover (or perhaps discover for the first time) an optimistic outlook that can help you face each new day or week. They show you how to trust in God's promises, reap the benefits of forgiveness, find contentment, and add joy to life. You don't have to let the bumps trip you up. Take control of your journey with the insight and encouragement in this book.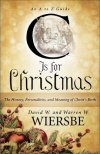 Throughout the centuries, so many traditions have woven themselves into the celebration of Christmas that it can be difficult to understand just what the season of Christ's birth is all about.
In C Is for Christmas, David and Warren Wiersbe cut through the fancy wrapping paper and pretty bows to give the background of the events surrounding Jesus' birth. They also explain the reasons for our various Christmas symbols and beliefs. From angels and Bethlehem to yuletide and Zechariah, the authors shed light on a wide variety of Christmas-related topics.
If you feel like something has been missing from your celebration of Christmas, the information in this unique collection is sure to deepen your appreciation for this beautiful season.
David W. Wiersbe has been a pastor for over 30 years and is currently serving his fourth church. He considers ministry to the grieving to be an important part of his calling and has worked with fire and rescue units, as well as local support groups for the grieving. He is the author The Dynamics of Pastoral Care, as well as coauthor of four books with his father, and lives in Minnesota.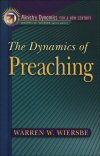 Preachers of God's Word need encouragement and inspiration along the way. Respected author and preacher Warren Wiersbe utilizes 50 years of experience to crystallize the unchanging principles of preaching.
With his usual clear style and common sense, Wiersbe answers the questions, "What good is preaching?" and "What is good preaching?" He draws from the examples of classic preachers and urges readers to speak to their listeners' present and personal situations.
In concise, readable chapters Wiersbe reviews topics ranging from what a preacher is, to how to choose sermon themes. He provides practical suggestions for how to be understood, while inciting preachers' imagination to deeper creativity.
The Dynamics of Preaching provides both experienced and beginning pastors with concise information to help them perform the task of ministry with efficiency, fruitfulness, and joy. Rooted in basic principles rather than passing fads, this volume addresses topics of perennial interest and offers sound guidance.
Few people know preaching as well as Warren Wiersbe. . . . In this brief volume Wiersbe goes back to the basics in a book that will be enjoyed by both novice preachers and experienced preachers. . . . Wiersbe's volume touches on topics that will not be new to readers, but he addresses them in a fresh and enjoyable manner that will encourage the most veteran preacher. At the same time, this book will be a tremendous guide to the younger preacher who is seeking to become more firmly established in his calling and craft.
—Preaching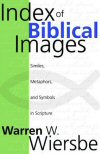 Index of Biblical Images: Similes, Metaphors, and Symbols in Scripture
Author: Warren W. Wiersbe
Publisher: Baker
Publication Date: 2000
Pages: 127
Well-known teacher and conference speaker Warren Wiersbe adds another helpful title to his list of books with this compilation of Scripture references. Index of Biblical Images cites over 400 similes, metaphors, and symbols found in the Bible. Images are arranged alphabetically and then further divided according to their context. For example, the metaphor of an arrow is used to represent lies, evil words, deliverance, and sons.
An eastern proverb states, &ldquot;The great teacher is the one who turns our ears into eyes so that we can see the truth.&rdquot; Throughout the Old and New Testaments the Holy Spirit chose to share God's truth through metaphorical language, culminating in the parables and picture language of Jesus, the greatest teacher of all.
By studying Scripture and comparing verses that use the same or similar language in conveying God's truth, pastors, teachers, and serious Bible students will enrich and deepen their understanding of God's Word.
. . . this very handy reference for discovering meanings that might otherwise be overlooked makes a nice contribution to biblical studies. It is ideal for pastors, teachers, and students.
—Library Journal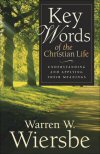 Justification. Regeneration. Redemption. Sanctification. Mediation. Only when you understand these key words of the Bible will you be able to live out what they teach. These "doctrinal words" help you know what a Christian is, what Christ has done for you, and what he wants to do for you.
Key Words of the Christian Life de-mystifies words and concepts like adoption into the family of God and intercession. Each chapter focuses on a New Testament word or phrase that has important meaning for your life and faith. Respected author Warren Wiersbe gives easy-to-grasp explanations of each word's theological meaning, along with practical application.
Wiersbe's guide is an invaluable resource whether you're a new believer or a seasoned Bible teacher. The accessible definitions found here will guide you through Scripture and throughout the Christian life.
When life falls apart, where is God? Does he care? Can he fix things? Does he really love us? In an uncertain world, we need to know that God is still in control, that he still cares for us and even suffers with us, and that he has a plan that cannot be defeated.
In his compassionate and caring style, Warren Wiersbe shows you that the answers to these big questions are available, reliable, and encouraging. If you are feeling beaten down, discouraged, or weary in the face of hard times, Warren wants you to know that you are never alone and that the future is bright. His faith-bolstering insights show you that, with God as your source of comfort, you can weather the storms of life—and come out on top.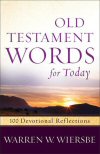 Old Testament Words for Today: 100 Devotional Reflections from the Bible
Author: Warren W. Wiersbe
Publisher: Baker
Publication Date: 2013
Pages: 208
It's remarkable how much the Lord can say to us in only five words of Scripture. Scattered throughout the Bible are small phrases that pack a punch. They teach truths, uncover human frailties, reveal God's grace, and even expose Satan's schemes.
Bestselling and beloved author Warren Wiersbe offers one hundred concise but nourishing devotions that zero in on powerful, five-word statements from the Bible. Each devotion is quickly digested, easily remembered, and leaves a lasting impact. Believers who are hungry for more of God's Word will use this book of bite-sized meditations for daily encouragement and renewal.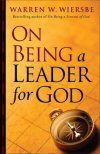 Books on leadership abound. But are the principles upon which these books are grounded found in Scripture? Do they describe the best way for Christians to lead, knowing that they function as ambassadors for Christ as they facilitate meetings, lead people, and manage projects?
In this book, trusted pastor and Bible expositor Warren W. Wiersbe deals biblically with topics that are relevant to Christian leadership, including:
Obedience
Character
Maturity
Ability
God's authority
Seizing opportunities
Biblical images of leadership
Measuring management
Being a leader versus a boss
Change management
Organizational leadership
Vision
Whether you're in a leadership position outside of the church, or you're a pastor, a deacon, or a church leader, you will find this book engaging and transformative.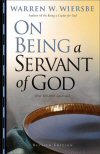 Do you sometimes lose sight of the core of your ministry? Do you feel overwhelmed by the needs that surround you? Do you wish you had some real encouragement? Every pastor experiences feelings of inadequacy or loneliness at some time in ministry. Serving others and serving God is not an easy task. Warren Wiersbe, the "pastor's pastor," knows the struggles and triumphs a life of service brings.
On Being a Servant of God invites you to listen in on 30 short "armchair chats." With candor and sensitivity, Wiersbe shares what he wishes he had known about ministering to others when he began his own Christian pilgrimage. Let his years of experience and wise counsel bring comfort to your soul and energy to your tasks.
Warren Wiersbe has written this work in such a personal and passionate fashion that at many times I felt like I was at a fireside chat both as a listener and a convener. This is my story—in fact, this is the story of all who seek to be authentic servants of God in a pseudo-religious world. Those who read it will experience 'open eyes' and 'burning hearts' as they revisit their own personal Emmaus Road.
—Robert Smith Jr., associate professor of divinity, Beeson Divinity School, Samford University
Every page, indeed nearly every paragraph, of Wiersbe's revised edition of On Being a Servant of God contains wisdom and insight for practical ways to be a servant leader—to be a servant of God. As a business executive, I'm grateful for Wiersbe's straightforward, no-nonsense approach in setting forth the basic principles for bringing the eternal hope of Jesus Christ to those in need—be it in the church or in the marketplace. Business leaders are often wired as take charge, type A personalities, desiring to be in control. Dr. Wiersbe instructs us on how we can relax and rely on the Holy Spirit to help us in building his kingdom—while giving God the glory.
—Bob Milligan, president, CBMC International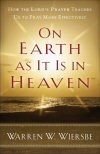 Do you feel like your prayer life is stagnant? Like you're saying the same things to God that you did when you first started praying? Just as young children slowly learn to communicate in more and more complex ways, so Christians should move from simply crying out to God to a mature, developed prayer life. The basic elements found in the Lord's Prayer are a helpful guide to believers hoping to enrich their prayers.
In On Earth as It Is in Heaven, beloved teacher and writer Warren W. Wiersbe explains and applies the elements of the Lord's Prayer so you can reach new levels of maturity in your own personal prayer life.
Wiersbe shows how the language of the Lord's Prayer is applicable not only to Christians' prayer lives, but also to the rest of our lives as well. This book is organized by phrases in the Lord's Prayer, which adds structure and helps explanations flow smoothly. One of the best features of this book is the plentiful amount of biblical references Bible teacher Wiersbe uses to support his points. Readers will appreciate the brevity and clarity of his writing style. . . . An insightful study of one of the most quoted passages in the Bible. I highly recommend it.
—Church Libraries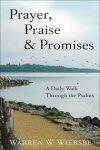 The Psalms have always held a special place in worship. From expressions of joy and thanksgiving to heart-wrenching pleas for mercy and strength, these poetic verses have been the basis of Christian worship for millennia.
You can experience the riches of the Psalms every day with Prayer, Praise & Promises. In this classic book, Warren W. Wiersbe plumbs the depths of the Psalms and adds personal devotions and reflections you will want to savor all year long.
If, like the saints of old, you yearn to make the Psalms a part of your daily expression of love and gratitude to God, this book is the place to start.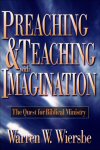 This innovative book is about preaching and teaching the Word of God in a new and exciting way. Its main premise is that biblical preaching is far more than the proclamation of Bible truth. Wiersbe writes from the perspective of a preacher, writer, and occasional seminary instructor who grew weary of "bringing skeletons into the pulpit and producing cadavers in the pews." He urges preachers to start communicating God's truth the way he communicated it to us in his Word—with imagination!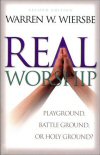 With 50,000 copies sold, the first edition of Real Worship helped many pastors and worship leaders make biblical sense in the controversy surrounding worship and worship styles. This second edition contains new chapters on taking worship seriously, planning balanced worship, and tradition in worship. A question-and-answer section, a bibliography, and a Scripture index have also been added.
While many books deal with how to worship, they fail to give a definition of true worship. Warren Wiersbe defines what worship is and the four elements it involves: wonder, witness, warfare, and wisdom. As he discusses such controversial issues as art, liturgy, worship styles, and music, Wiersbe keeps the focus on God and demonstrates the balance of worship for which every church should strive.
Real Worship is both biblically based and autobiographical, containing personal testimony, anecdotes, and illustrations from Wiersbe's pastoral experience.
Warren Wiersbe has done a masterful job of communicating our call to worship from the pages of Holy Scripture. His chapter on preaching as a sacrament is alone worth the price of the book. This is yet another prophetic voice calling modern evangelicalism back home to the priority of worship.
—Peter E. Gillquist, former American archpriest, Antiochian Orthodox Christian Archdiocese of North America
With intelligence and insight, wit and wisdom, Warren Wiersbe reveals the transformation which honest worship can bring to each Christian and his church.
—Frank Boggs, retired choral director, The Westminster School, Atlanta
Rarely have I identified with an author in his perception and experience of worship as I have in this present volume. The reader will never be quite the same again after perusing these pages. He may not agree with everything, but he will have to acknowledge that 'man's chief end is to glorify God' and to 'worship Him in the beauty of holiness.'
—Stephen Olford, founder, Olford Ministries International
For long enough this matter of Christian worship has been begging for restudy and restatement, and an answer to that is just what we have in this new book from the mind and heart of one who is eminently fitted to talk to us about it. It has blessed my own heart. May it have wide acceptance and deep impact.
—J. Sidlow Baxter, author and theologian
In worship we declare what is really valuable to us, says Dr. Wiersbe. Convinced he is right, my mind devoured this book. Often in the reading of these pages I forgot this was a book about worship and became lost in the very act of worship. Wiersbe wakes us to the wonder of God. A solid and scholarly challenge threads substance throughout the piece.
—Calvin Miller, emeritus professor of preaching and pastoral ministry, Beeson Divinity School, Samford University
Warren Wiersbe has done a wonderful service . . . by giving us this marvelous book. It is easily readable, thoroughly biblical, intensely practical, and sorely needed. With a happy heart, I commend it to all who wish to discover the joy of biblical worship.
—Adrian Rogers, former president, Southern Baptist Convention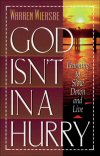 Why doesn't God work more quickly? Can he have a purpose for making me slow down?
Here is encouragement for those times when you are impatient with your Christian walk.
In our instant society where we eat microwaveable meals and see serious problems resolved in less than half an hour on TV sitcoms, we resist waiting on the Lord. Yet God uses trials to test our patience and cultivate fruit in our lives.
Warren Wiersbe exhorts you to relax in God and enjoy the journey through life walking with him. Sometimes he leads down smooth, tranquil paths, but at other times he takes us on bumpy roads where we can't see what lies ahead. This warm, insightful book gives practical instruction for sharpening your discernment, developing a powerful prayer life, being involved in a church on the move, and standing firm in the furnaces of life.
Periods of suffering, affliction, and dryness, are inevitable. God Isn't in a Hurry encourages you to persevere through these times, believing that your loving heavenly Father will use them to conform you to Christ.
About Warren W. Wiersbe
Warren W. Wiersbe, the "pastor's pastor," is a noted scholar and theologian. He is the author or editor of more than 160 books; he is most-known for his popular "Be" Series. Wiersbe has served as a director of The Literature Division for Youth for Christ International; speaker on the Songs in the Night radio program; professor of practical theology at Trinity Evangelical Divinity School; chairman of the board of the Slavic Gospel Association; writer in residence at Cornerstone University; and distinguished professor of preaching at Grand Rapids Theological Seminary. Today his primary ministry is serving others through writing.