Lancelot Andrewes Collection (7 vols.)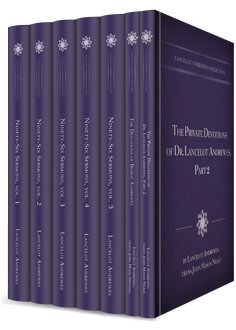 Overview
Known as the "star of preachers," Lancelot Andrewes was one of the foremost scholars and theologians during the reigns of Elizabeth I and James I of England. So great was his command of language that he was appointed head of the committee that created the Authorized Version (or King James Version) of the Bible. After Andrewes' death, King Charles I ordered that his sermons be collected and published. T. S. Eliot converted to Anglicanism (from Unitarianism) after reading these collected sermons. According to Eliot, "they rank with the finest English prose of their time, of any time."
The Lancelot Andrewes Collection combines the 96 sermons collected by Charles I with two volumes of Andrewes' private devotions. Sermons are grouped topically for easy access, and you can cross-reference other sermon collections with a click. Latin, Greek, and Hebrew words link to language resources in your library, and you can define difficult or out-of-date English words with the dictionary lookup function. Complete indexing allows you to access these historical texts with Logos' state-of-the-art search functions.
Product Details
Title: Lancelot Andrewes Collection
Author: Lancelot Andrewes
Volumes: 7
Pages: 2,567
About Lancelot Andrewes
Lancelot Andrewes (1555–1626) was born in All Hallows, Barking, in London. He graduated from Cambridge University with a BA and an MA. He became a fellow of Pembroke Hall, Cambridge, in 1576. He was ordained in 1580 and made master of Pembroke Hall and chaplain to the Archbishop of Canterbury in 1589. The following year he became chaplain to Queen Elizabeth I. Andrewes' sermons recommended him to James I, who made him general editor of the Authorized Version (King James Version) of the Bible. In 1605, Andrewes became bishop of Chichester. His sermon following the foiled Gunpowder Plot in 1606 became the foundation for celebrations that continue today. He eventually became Bishop of Winchester, a position he held until his death in 1626.
More details about these resources