The Book of Isaiah according to the Septuagint (Codex Alexandrinus), vol. 1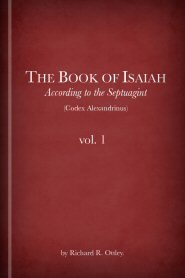 The Book of Isaiah according to the Septuagint (Codex Alexandrinus), vol. 1
•
Runs on Windows, Mac and mobile.
Overview
Volume one of The Book of Isaiah according to the Septuagint (Codex Alexandrinus) contains a concise introduction to the history of the Septuagint before providing parallel English translations of Isaiah from the Hebrew and the Greek texts. The side-by-side translations make for easy comparison, and Ottley provides helpful notes on each page.
With the Logos edition, all Scripture passages are tagged and appear on mouse-over. What's more, Scripture references link to a wealth of language resources in your digital library. This makes the texts more powerful and easier to access than ever before for scholarly work or personal Bible study. With the advanced search features of Logos Bible Software, you can perform powerful searches by topic or Scripture reference—finding, for example, every mention of "Alexandria," or "kingdom."
Key Features
Introduction to the history of the Septuagint
Examines the differences between the LXX and the Hebrew
Side-by-side translations
Contents
Introduction:

Early History of the Septuagint
Text of the LXX in Isaiah
Methods of Rendering
Differences between the LXX and the Hebrew

List of MSS. containing Isaiah in Greek
Parallel Translations
Index
Praise for the Print Edition
It will be of the greatest value to all students who wish to read the evangelical prophet in the form in which he was read in the synagogues of the dispersion and quoted by our Lord's Apostles.
—The Saturday Review of Politics, Literature, Science, and Art
A scholarly volume, which we strongly recommend to serious students.
—The Education Outlook
Product Details
Title: The Book of Isaiah according to the Septuagint (Codex Alexandrinus), vol. 1
Author: Richard R. Ottley
Publisher: University Press
Publication Date: 1909
Pages: 336
About Richard R. Ottley
Richard Rusden Ottley (1864–1946) received his MA from Trinity College, Cambridge and was an assistant master at Dover College from 1893–1900. He was the editor of H. B. Swete's Introduction to the Old Testament in Greek.