Interreligious Dialogue Series (4 vols.)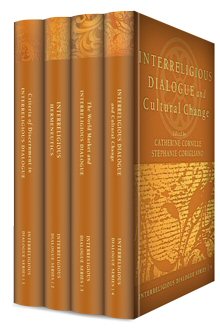 Overview
"The process of discernment of truth in interreligious dialogue involves . . . combining faithfulness to one's own tradition and openness to the other, critical self-awareness and serious engagement with the teachings and practices of others, daring judgment and continuous openness to correction" (Introduction, Criteria). This collection emphasizes the importance of engaging in interreligious dialogue. It brings together scholars from different religions to address various topics, including discerning what is true and valuable in other religious traditions; engaging other religions' texts and teachings; inviting dialogue between religions over the world market and economy; and assessing the religious acculturation phenomenon in the United States.
With the Logos Bible Software edition of the Interreligious Dialogue Series, you have unprecedented access to resources that offer relatable and insightful material for your study. You can do hours of biblical research with a click. With powerful searching by topic or Bible passage, instantly viewable Scripture references, a vast library of resources, and much more, Logos is the perfect software to expand your understanding of various religious traditions.
Key Features
Provides healthy interreligious dialogue on historical and contemporary issues
Contains numerous essays by scholars from varying religious traditions
Illustrates the positive impact interreligious dialogue can have on a local and global level
Product Details
Title: Interreligious Dialogue Series
Series Editor: Catherine Cornille
Publisher: Wipf & Stock
Volumes: 4
Pages: 1,174
About Catherine Cornille
Catherine Cornille is professor of comparative theology at Boston College. She is the author of The Im-Possibility of Interreligious Dialogue and editor of Song Divine: Christian Commentaries on the Bhagavad Gita. She is managing editor of the series Christian Commentaries on Non-Christian Sacred Texts.
More details about these resources