Trinitarian Theology Collection (3 vols.)
Overview
The Trinitarian Theology Collection provides an illuminating exposition of important thought on the doctrine of the Trinity. Each of the three volumes views the Trinity through the perspective of a different key theologian, always with an eye to other complementary and disparate ideas.
Paul D. Molnar's Divine Freedom and the Doctrine of the Immanent Trinity analyzes and compares Karl Barth's view of the relationship between the immanent and economic Trinity with the views of many contemporary theologians. Matthew L. Becker's The Self-Giving God and Salvation History takes a look at Johannes von Hoffmann's Trinitarian kenosis (emptiness), where the eternal God becomes historical by self-emptying God's self into Jesus. In The Christian Doctrine of God, Thomas F. Torrance expounds the basic teaching of the ancient Catholic Church and builds a significant bridge between ancient and modern, Catholic and Evangelical theology.
Bringing together some of the most erudite thought on the Trinity available, the Trinitarian Theology Collection presents a serious and insightful look into the nature of the Triune Being.
Product Details
Title: Trinitarian Theology Collection (3 vols.)
Publisher: T & T Clark International
Volumes: 3
Pages: 976
Individual Titles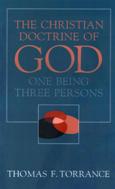 In this ground-breaking work, T. F. Torrance aims to clarify understanding of the most profound article of Christian Faith, the doctrine of the Holy Trinity.
The Trinity is grounded upon God's historical self-revelation in Jesus Christ. It is presented in this work as teaching which is implicit in the New Testament revelation and in the worship of the Early Church, rather than as a logical derivation from other aspects of Christian doctrine. Adopting a holistic approach, Torrance explains the inter-relatedness of the three Persons – Father, Son and Holy Spirit – and their dynamic Communion in the Triune Being and Nature of God.
Combining immense academic range with new theological perspectives, Torrance expounds the basic teaching of the ancient Catholic Church and builds a significant bridge between ancient and modern, Catholic and Evangelical theology.
Torrance writes not only with intellectual rigor and scholarly breadth, but with the winsome spiritual warmth of a praying theologian… [He] offers an excellent exposition and defense of the classical doctrine of the divine Trinity. This erudite book repays careful reading.
—Trinity Journal
Thomas F. Torrance is Emeritus Professor of Christian Dogmatics, University of Edinburgh.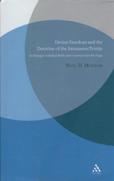 This book constructs a contemporary doctrine of the immanent trinity in dialogue with Karl Barth's theology and a selected number of prominent contemporary theologians. For Paul Molnar, human freedom can be properly understood only in the light of God's freedom, and any understanding of the immanent Trinity that is not fashioned from the economic Trinitarian self-revelation will lead toward a dualistic, monistic or agnostic view of divine/human relations. Therefore, any method that starts with experience and not explicitly the word of God revealed will be seen to threaten a proper perception of both divine and human freedom.
Molnar argues that a properly conceived contemporary doctrine of the immanent Trinity will enable theologians to say something positive about God and God's relations with us in history, without in any way making God dependent on history. In this book he analyzes and compares Karl Barth's view of the relationship between the immanent and economic Trinity with the views of other contemporary theologians in order to explore what a proper understanding of divine freedom should look like today, and how that view should develop in light of contemporary feminist and historicist approaches to the Trinity.
Molnar sets out to place the doctrine of the immanent Trinity firmly back on the agenda of the Christian doctrine of God, and does so to considerable effect. In conversation not only with Barth but with many contemporary proposals in Trinitarian theology, he makes a persuasive case for the centrality of the doctrine and against the perils that attend its neglect. This is an essay in Christian dogmatics of a high order, learned, intellectually powerful and spiritually engaged; it deserves to be widely read and discussed.
—John Webster, Lady Margaret Professor of Divinity, University of Oxford
Although Trinitarian doctrine has enjoyed great attention in recent theology, not all of it has been as careful or as considerate as one might hope. Now by drawing upon classical theologians like Barth, Aquinas and Torrance, who are deployed in an outstanding way, Paul Molnar separates the wheat from the chaff. Masterful, fully documented and trenchant, the result is perhaps the most important work on the Trinity to appear in the last 20 years.
—George Hunsinger, Princeton Theological Seminary
Paul D. Molnar is Professor of Systematic Theology at St. John's University, New York.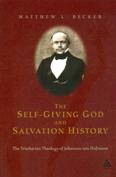 Hofmann (1810–1877) was one of the most significant theologians of the 19th century and perhaps the century's most influential Lutheran theologian. Matthew L. Becker introduces us to Hofmann's Trinitarian view of God.
According to Hofmann, God freely chose to give himself out of divine love. Becker's book centers on Hofmann's understanding of history. In Hofmann's Trinitarian kenosis, the eternal God has become historical by self-emptying God's self into Jesus. For Hofmann, world history can only be understood within the historical self-giving of the triune God who is love. Thus, for Hofmann all of history is salvation-history, a kind of history that embraces and fulfills God's purposes in the world.
Heilsgeschichte is the one German word every student of theology learns. Here Matthew Becker introduces us to the father of the 'history of salvation' way of thinking that Oscar Cullmann popularized in Christ in Time. An added bonus is Becker's surprising thesis that, contrary to common opinion, Trinitarian theology was alive and well in the nineteenth century, prior to its alleged rebirth in the dogmatics of Karl Barth.
—The Rev. Dr. Carl E. Braaten, Executive Director, Center for Catholic and Evangelical Theology
Using the whole range of Hoffmann's work, including the lectures on dogmatics that Hofmann left unpublished, Becker has written a book that makes a significant addition… to the extensive literature in German [on Hofmann]. The Self-Giving God and Salvation History ranges widely over Hofmann's theology and his intellectual world – and digs deeply, with meticulous attention to detail. Professor Becker's concern is not only to set the record straight on this often misunderstood theologian, but also to continue the critical engagement with his thoughts that began in his own day and to set them alongside the present-day theological discussion, which in some respects Hofmann anticipated.
—From the Forward by Brian A. Gerrish, John Nuveen Professor Emeritus, The University of Chicago Divinity School
Matthew L. Becker is Visiting Associate Professor of Theology at Valparaiso University, Valparaiso, Indiana. An ordained Lutheran minister, Dr. Becker has served congregations in Chicago and Oregon. He is a co-editor of God Opens Doors, a history of the Lutheran Church-Missouri Synod in the Pacific Northwest.