Samuel Zane Batten Collection (7 vols.)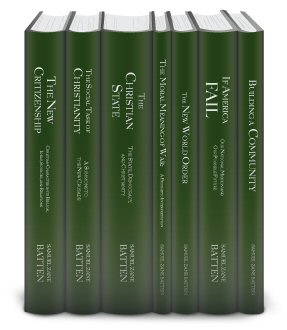 Overview
The Samuel Zane Batten Collection contains seven volumes by this Baptist minister and proponent of social change. Batten argued that Christianity should move beyond a focus on individual salvation to redeeming humanity as whole. In The New Citizenship, The Social Task of Christianity, and The Christian State, Batten analyzes social issues and presents plans for building a society that reflects God's will.
This collection also highlights the effects of World War I, with a volume of essays edited by Batten dealing with the Christian view of war and other books by Batten analyzing the changes in the world.
In the Logos Bible Software edition, the Samuel Zane Batten Collection is easily searchable. All Scripture passages are tagged and appear on mouseover. With Logos' advanced search features, you can perform split-second searches by topic or Scripture reference—finding, for example, every mention of "democracy" or "Matthew 11:5 "
Key Features
Arguments for Christianity as an agent of social change
Plans and programs for a Christian society
Essays dealing with a Christian response to World War I
Individual Titles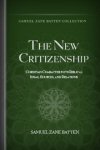 In this book, Batten explores what Christian citizenship should look like, arguing for a growth in Christian ideals that goes beyond individual salvation to redeeming humanity as a whole. He analyzes the Bible, the cross, and prayer as they relate to social justice, before discussing virtue and Christian living. Finally, Batten explores how to apply these ideas in business, politics, and the church.
It will provoke thought, awaken aspiration and inspire to nobler living. The right ideal is portrayed in a masterful fashion, showing profound spiritual apprehension.
—The Sunday-school World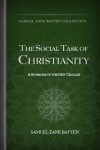 Considering the changes taking place during his time, Batten explores the Christian task of meeting God's will in society. After laying out current social problems and arguing for the social nature of Christianity, he presents programs and methods for change.
Dr. Batten's message is a thrilling 'summons to the new crusade, a vision of what would happen if the thirty-four million church members in this country who pray for the kingdom of God should unite in making that kingdom a fact.' By the time the last page is reached one is ready to agree with a statement at the beginning of the book, that 'instead of debating whether Christianity has failed, we may well ask whether it has really been tried.'
—Survey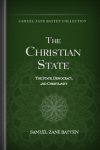 This in-depth book examines the relationships between three elements of the modern world: the state, democracy, and Christianity. Battan first addresses the ideas of the state and democracy in detail. He then describes how Christianity relates to the state, how it can address modern problems, and what a Christian society should be like.
[A] noble volume which will afford both stimulus and guidance to readers who desire 'the progress and perfection of the human race.' Doctor Batten deals in a masterly fashion with his comprehensive threefold theme.
—The Standard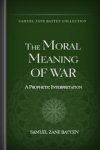 In this collection of essays edited by Batten, various Baptist writers address issued raised by World War I, including questions of why Christians should fight in the war and the deeper meaning of the conflict. Batten introduces the moral view of the collection in his preface: "This war for the destruction of injustice and inhumanity is a holy crusade and a continuation of Christ's sacrificial service for the redemption of the world."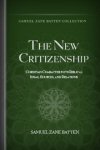 Batten considers the new world created by World War I and what this world should look like. Focusing on the kingdom of God, he suggests principles for community, industry, national organization, and international relations, as well as the church's role in social change.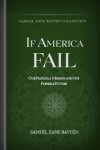 Seeing America's important role and responsibility in the world, Batten considers what the country's mission should be. He examines historical causes that have caused nations to decline and how those factors might affect America. Finally, he offers a plan of necessary changes, including issues of justice, conservation, family, and more.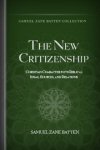 In this educational volume, Batten addresses the question of building a City of God on earth. The first chapters defines the "Ideal City," considering the New Jerusalem in Revelation and other important biblical passages. In the following chapters, Batten discusses specific topics, including the church, schools, housing, health, and more. Each chapter includes discussion questions.
Product Details
Title: Samuel Zane Batten Collection
Author: Samuel Zane Batten
Volumes: 9
Pages: 1,820
About Samuel Zane Batten
Samuel Zane Batten (1859–1925) was a Baptist minister who preached against social evils and advocated Christian democracy. He founded the Commission on Social Service of the American Baptist Association and was a member of the Brotherhood of the Kingdom, a group founded by fellow Social Gospel advocate Walter Rauschenbusch.