J. A. Wylie Collection (25 vols.)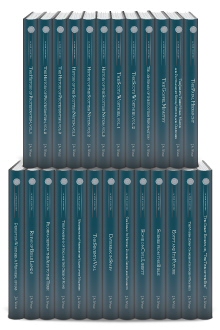 J. A. Wylie Collection (25 vols.)
•
Runs on Windows, Mac and mobile.
$40.00
Reg.: $199.95
Print: $519.96
* Projected price. Future bids may change this price.
Place Your Bid!
Click on the highest price you'd pay. If the final price is lower, that's what you'll pay.
Overview
The J. A. Wylie Collection contains 25 volumes from one of Scotland's most important nineteenth-century theological historians. The writings of Wylie offer extensive treatments of the history of Protestantism, the history of Scotland and the Scottish Reformation, the Scottish Disruption of 1843, and much more. Like Foxe's Book of Martyrs, Wylie's two-volume The Scots Worthies contains the inspiring stories of faithful Scottish Christians who died for their faith. This collection also includes two works on the interpretation and fulfillment of prophecy in the Bible, Wylie's highly popular commentary on the Book of Revelation, a volume on the Waldensians, and much more.
In the Logos Bible Software edition, all Scripture passages in J. A. Wylie Collection are tagged to appear on mouse-over. For scholarly work or personal Bible study, this makes these resources more powerful and easier to access than ever before. Perform powerful searches by topic or Scripture reference—finding, for example, every mention of "resurrection" or "Mark 9:2."
Key Features
Three-volume History of Protestantism
Three-volume History of the Scottish Nation
Two-volume The Scots Worthies
Works on the Scottish Reformation, prophecy in the Bible, the Waldensians, and more
Individual Titles
Product Details
Title: J. A. Wylie Collection
Author: J. A. Wylie
Volumes: 25
Pages: 9,617
About J. A. Wylie
James Aitken Wylie (1808–1890) was born in Kirriemuir, Scotland, and educated at the University of Aberdeen. He was ordained in the Original Secession Church in 1831, served as minister of Original Secession Congregation at Dollar from 1831 to 1846, and joined the Free Church of Scotland in 1852. He helped edit and published over 800 articles in The Witness and later was editor of the Free Church Record. From 1860 to his death he lectured at the Protestant Institute of Scotland, Edinburgh. He passed away just after completing the third volume of The History of Scotland.