Francis Chan Collection (6 vols.)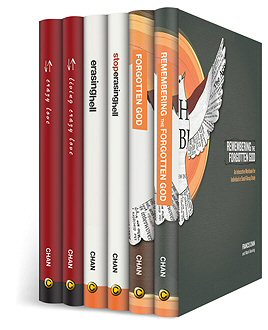 Overview
Allow Francis Chan to take you through your journey of self-discovery into the beauty of God's character and his plan for your life. In this collection, Francis Chan—author, speaker, teaching pastor, and founder of Eternity Bible College—presents three volumes, with companion studies, on God's love, hell, and the Holy Spirit.
In Crazy Love, Chan takes a look at religious complacency and points out what lukewarm Christians are missing out on: God's radical, unconditional, self-sacrificing love. He illustrates ways to encounter and embrace God's love and transform your life. In Erasing Hell, Chan analyzes what Jesus and the Scriptures say about hell and eternal destiny. And in Forgotten God, Chan focuses on the Holy Spirit's purpose and role in your life, showing how you can begin living a life led by the Spirit. Each volume comes with a companion study that further explores and provides practical application on God's love, hell, and the Holy Spirit. These can be used as stand-alone individual or group studies.
The Logos Bible Software edition of the Francis Chan Collection is designed to encourage and stimulate your study and understanding of key biblical topics. Scripture passages link directly to your English translations and to the original language texts, and important theological concepts link to dictionaries, encyclopedias, and a wealth of other resources in your digital library. In addition, you can perform powerful searches by topic and find what other authors, scholars, and theologians have to say about God's love, hell, and the Holy Spirit.
Key Features
Three volumes covering important biblical themes: God's love, hell, and the Holy Spirit
Three volumes with in-depth studies of each theme
Sound, biblical, humbling, and encouraging approach to difficult topics
Product Details
Title: Francis Chan Collection
Author: Francis Chan
Publisher: David C. Cook
Volumes: 6
Pages: 947
About Francis Chan
Francis Chan is a best-selling author and the host of the BASIC series. He has also written the children's books Halfway Herbert, The Big Red Tractor and the Little Village, and Ronnie Wilson's Gift. Francis is the founding pastor of Cornerstone Church in Simi Valley, California, and is the founder of Eternity Bible College. He also sits on the board of directors of Children's Hunger Fund and World Impact.