Perspectives on Christian Living Collection (9 vols.)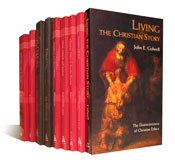 Perspectives on Christian Living Collection (9 vols.)
•
Runs on Windows, Mac and mobile.
Overview
The Perspectives on Christian Living Collection helps map the theological dimensions of modern life. Addressing issues of worship, ethics, holiness, friendship and others, the nine volumes respond to contemporary concerns facing the Church and society. The authors progress through philosophical and theological ideas from the ancient to the modern era and reach timely and thought-provoking conclusions about the Christian's location within the world.
With secular society running into dead ends only a Biblical ethic can circumvent, the presence of comprehensive Christian answers to modern questions is imperative. How are Christians to move, spiritually and socially, through the political and philosophical landscape of today? How can they guide the modern world, and how can the modern world deepen their walk with God? What is the Christian response to AIDS, nuclear war, social control, and environmental concerns? In nine scholarly and readable volumes, the Perspectives on Christian Living Collection navigates the Christian through these and other questions of contemporary existence.
Key Features
Addresses contemporary issues facing the Church and society
Ideal for counselors and teachers
Product Details
Title: Perspectives on Christian Living Collection (9 vols.)
Volumes: 9
Pages: 2,580
Collection Details