Catholic Marriage and Family Collection (6 vols.)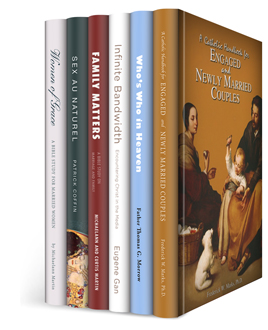 Catholic Marriage and Family Collection (6 vols.)
•
Runs on Windows, Mac and mobile.
Overview
Discover God's plan for your marriage and family with six volumes that each bring a unique area of Catholic teaching, essential for families in the twenty-first century. Learn what the Catholic Church teaches on natural family planning, technology and media, raising a Christian family in a non-Christian culture, and more through these insightful volumes designed to lead your family to the family of God.
The Logos edition enhances the value of this collection in a way that print never can. Read Who's Who in Heaven to your children from your tablet or read any of these volumes with your spouse from the comfort of your bed. Connect instantly with their citations and references to the Bible or the Catechism of the Catholic Church, and create reading plans for your small group to keep everyone on task through Faithlife.
Key Features
Rediscover the joy and holiness of Catholic marriage
Connect solid Catholic teachings with the dynamic of your family
Learn how technology and media can work to build the kingdom of God
Grow in faith and trust in God through your marriage and parenthood
Product Details
Title: Catholic Marriage and Family Collection
Authors: Michaelann Martin, Patrick Coffin, Frederick W. Marks, Eugene Gan, Thomas G. Morrow
Publisher: Emmaus Road Publishing
Volumes: 6
Pages: 888
Individual Titles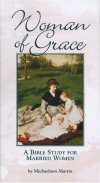 Woman of Grace is an insightful and intimate Bible study written to help married women grow in holiness in their day-to-day living. Drawing from her life experiences, Michaelann Martin offers ways that will help women improve their prayer lives, communicate with their family, and find fulfillment in their vocation. Each chapter includes questions that mine the rich teaching of Scripture and the writings of the Church to help women apply those principles in their own lives. Helping married women grow in holiness as wives and mothers, this study is especially designed for small study/prayer groups, and a helpful leader's guide is provided in the back.
Michaelann Martin is the coauthor of Family Matters: A Bible Study on Marriage and Family and author of The Catholic Parent Book of Feasts and Girl's Night Out: Having Fun with Your Daughter While Raising a Woman of God. She received a BA in psychology and a MA in education from Pepperdine University. Michaelann is the cofounder and president of Made for More, Inc., an outreach dedicated to sharing God's vision for holiness. She and her husband, Curtis, have worked with youth and college students for over 20 years.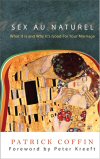 Sex au Naturel: What it is and Why it's Good for Your Marriage
Author: Patrick Coffin
Publisher: Emmaus Road Publishing
Publication Date: 2010
Pages: 160
Sex Au Naturel: What it is and Why it's Good For Your Marriage by radio host Patrick Coffin is a bracing ride across the landscape of the Catholic sexual ethic. If you're looking for intellectual ammo with which to defend and explain the teaching of Humanae Vitae, or if you reject it altogether, you'll agree that Coffin approaches the topic from a wide array of new and persuasive angles. With humor and enthusiasm—and a total absence of moralizing—you'll learn:
Why Paul VI's landmark 1968 encyclical was widely rejected a generation ago and why it's gaining new respectability now
Where exactly the Bible teaches against birth control
The differences between contraception and natural family planning
The meaning of the natural law and how it applies to birth control
How the dogma of the Blessed Trinity implicit condemns birth control
That every single Protestant denomination rejected birth control until 1930
Why the myth of overpopulation is used against the Church, and how to answer it
How faithful adherence to the teaching of Humanae Vitae is causally related to marital happiness and longevity
Why it's not too late to start over, even if you've been sterilized
How to rely on the ever-present grace of God rather than your own strength in faithfully following this challenging, life-giving aspect of Christian discipleship
In Sex au Naturel, Patrick Coffin presents a clear and compelling case for the timeless teaching of the Church on contraception. Coffin demonstrates the beauty, power, and joy that is possible in marital sexual love when a couple does not separate what God has joined—their union expressing life-giving love.
—Kimberly Hahn, author, Life-Giving Love: Embracing God's Beautiful Design for Marriage
Opinion surveys report that, while most Catholics believe most Catholic doctrines, they overwhelmingly reject the Church's teaching on the immorality of contraception. Why? I think it is because no one ever explained it to them clearly and convincingly. ( When did you last hear Catholic sexual teaching explained well from the pulpit—or at all?) In this book Patrick Coffin succeeds in doing what many have failed to do—or have not even tried to do. He makes old truths new and not just new but winsome and liberating. He takes up every challenge to the Church—s teaching, makes that teaching accessible to everyone, and shows that sex au naturel is best understood as sex au supernatural.
—Karl Keating, president, Catholic Answers
Patrick Coffin represents a new generation in rebellion against the rebels of my generation, standing against the 1960s battle cries, 'Keep the Pope out of my bedroom!' (This was self-flattery: What made them think he wanted to be there?) Having once accepted the principles that separated procreation from union and love within sex, Coffin came to see the tragedy developing in his generation. Sex au Naturel describes the many intertwined but knotted and confused strands of thought about sexuality that are strangling the life out of society. By unraveling teachings on sexuality in the Church, Scripture and tradition, as well as in useful science, medicine and social trends, the knots come loose and the reader is surprised by one startled point of Christian sexual freedom after another.
—Fr. Mitch Pacwa, host, EWTN Live
I firmly believe that Catholic teaching on contraception will one day be vindicated around the world. Patrick Coffin's own journey from dissent to discovery will resonate with a whole generation who were really never invited to 'come and see' this sublime vision of sexuality and Christian marriage.
—Christopher West, author, Theology of the Body Explained
Of all the Catholic Church's moral teachings, its teaching against contraception is by far the most reviled and attacked precisely because it is so misunderstood by so many. Happily, Patrick Coffin has set about to remedy that problem with this new book. He explains how he went from rejecting Catholic teaching on contraception to wholeheartedly embracing it, and along the way he explodes many popular myths and misconceptions about Humanae Vitae. If you or someone you know has left the Catholic Church over the issue of birth control, this book will help set the record straight by showing you why the Church teaches what it does on this very important life issue.
—Patrick Madrid, director, Envoy Institute of Belmont Abbey College
Patrick Coffin is the host of Catholic Answers Live, the number-one rated Catholic radio show in America. He has published dozens of articles, essays, and interviews. Born in Nova Scotia, he is an alumnus of Mount Saint Vincent University in Halifax, McGill University in Montreal, and Franciscan University of Steubenville in Ohio, where he recieved his MA in theology.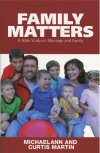 Make time for the thing that matters most—your family. Michaelann and Curtis Martin share valuable lessons from Scripture and their own experience on how to raise a happy and holy family, even amidst the challenges of today's culture.
Family Matters is a wonderful resource for couples looking for the keys to success in marriage.
—Kimberly Hahn, coauthor, Rome Sweet Home and Catholic Education: Homeward Bound
God has a plan for marriage; so does the Devil. Any couple that attempts marriage without proper formation runs the risk of missing out on one of the greatest opportunities for joy and happiness to be found in this life. Learned, fast paced, deeply insightful, and overflowing with inspiration, Family Matters should be required reading for all engaged couples, or for any couple seeking to renew the abundant love experienced on their wedding day.
—Carolyn A. Saeman, board of directors, Culture of Life Foundation
Family Matters courageously and compassionately gives couples the keys for building a successful marriage and family life—even in the midst of our anti-family culture. Family Matters isn't untested theory, but is filled with practical, real-life illustrations from the Martins' own family experiences. A helpful, encouraging, and valuable book for all spouses and parents.
—Steve and Karen Wood, Family Life Center International
Curtis Martin is the founding president of the Fellowship of Catholic University Students (FOCUS), a dynamic evangelization and leadership training program for college students. He is the coauthor of Boys to Men: The Transforming Power of Virtue. Curtis received his BA in communications from Louisiana State University and his MA in theology from Franciscan University of Steubenville.
Michaelann Martin is the author of Women of Grace: A Bible Study for Married Women, The Catholic Parent Book of Feasts, and Girl's Night Out: Having Fun with Your Daughter While Raising a Woman of God. She received a BA in psychology and a MA in education from Pepperdine University. Michaelann is the cofounder and president of Made for More, Inc., an outreach dedicated to sharing God's vision for holiness. She and her husband, Curtis, have worked with youth and college students for over 20 years.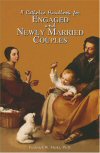 In this practical guide to marriage, learn the "secrets" of building a sound, spiritual relationship with your fiancé or spouse—from toothpaste in the sink to natural family planning.
This handbook is outstanding both for its practicality and for its fidelity to the Catholic faith. It is practical because it offers good suggestions on most aspects of married life, such as the wedding, the honeymoon, the relationship between husband and wife, in-laws, finances, raising children, sexual relations, practicing the faith, and developing a spiritual life of personal relations with God. The handbook is also thoroughly Catholic. It offers excellent advice on how to live the Catholic faith as a married man or woman. There is no waffling here, no dissent, no ambiguity. The author spells out clearly what the Catholic Church expects of married people in the areas of married life, sexuality, and family life.
—Fr. Kenneth Baker
Frederick W. Marks III is an American historian and Catholic apologist. As a scholar, he has written and taught extensively on American diplomatic history. As a proponent of Roman Catholicism, he has written dozens of articles and tracts, and spoken extensively in public. Marks attended Loyola High School in New York City, attained his BA from Holy Cross College in 1962 and his PhD from the University of Michigan in 1968. He taught at the University of Michigan from 1967–1968, at Purdue University from 1968–1973, and at St. John's University from 1974–1979. He is also the author of The Gift of Pain.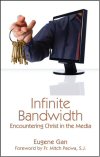 Eugene Gan navigates you faithfully through the digital world, encouraging frustrated parents not to throw out cell phones, ban the internet, chuck computers, or pitch portable media devices. That would be a mistake and—believe it or not—would be going against more than seven decades of Catholic teaching. From Church documents on social communications, Gan extracts seven principles or "media keys" of how to approach and use media. The Church—and Gan—say that we must enter into the modern day "Areopagus," the social and intellectual hub of ancient Athens where Paul preached to pagans, and use the media tools God has given us to make truth known and serve mankind.
Gan offers chapter after chapter of real-life experience of how to assess movies, games, and gadgets for you and your teens, of how to judge the merits of a film like Saving Private Ryan, and what sets it apart from Nightmare on Elm Street. Can one be acceptable viewing and the other not? Definitely. And Gan details why. Infinite Bandwidth: Encountering Christ in the Media is way out front of the newest gizmo—and will stay there—thanks to its timeless principles that can be applied in all digital terrain, present and future. Parents, educators, and students will put this book down with an entirely different attitude about the relationship between faith and media use.
Frankly, I wish that such a book had existed when I was president of the Pontifical Council for Social Communications as a text which I could have recommended. The important thing, however, is that it exists now to provide text, context, and challenge for those who wish to bring both Christian principles and professional excellence to their work in the media.
—Cardinal John Patrick Foley
Even when disagreeing with Gan's assessments, the reader benefits by being invited to think more deeply about the media under discussion. Excellent for individual use, this volume would work even better in a group setting. This is a great reading group book for parents who are concerned about their children's (and their own) use of media. This would also be useful to teachers at all levels. It could be a textbook, but it certainly should be a reference book. It would apply well to religious and communication studies. While Infinite Bandwidth obviously has a strong Catholic influence, it would be valuable to anyone who is concerned about the impact of media on themselves and their loved ones. Additionally, those who want to engage the culture and impact it positively would benefit from this book.
—The National Catholic Register
Eugene Gan was born in Singapore, the only child of Catholic parents. He attended Carnegie Mellon University in Pittsburgh and graduated in 1994 with a BS in electrical and computer engineering. He earned his MA in Duquesne's multimedia technology program and taught courses at Duquesne University's graduate school. Dr. Gan received his doctorate in education, instructional technology from Duquesne University. He currently is an associate professor of interactive media, communications at Franciscan University of Steubenville, and helped launch the University's multimedia concentration. An expert on many aspects of new media technology, Dr. Gan has written, produced, and designed multimedia productions for numerous clients. He has also written articles for the Pontifical Council of Social Communication and the Pontifical Council for Culture.

Who's Who in Heaven: Real Saints for Families in Plain English
Author: Thomas G. Morrow
Publisher: Emmaus Road Publishing
Publication Date: 2012
Pages: 176
In Who's Who in Heaven, Fr. Thomas Morrow applies his 30 years of ministry to families in selecting and presenting the lives of the saints. He makes the full spiritual richness of their lives accessible to children, using an age-appropriate style, explanatory notes, and commentary for reflection. Written in a simple language for the whole family, parents can read to younger children until they can grow to read it on their own. Bring the legacy and the intercession of the saints into your household with this family-friendly book on your favorite saints!
Thomas G. Morrow graduated from St. Charles Seminary in Philadelphia and was ordained in 1982 for the Archdiocese of Washington DC. He has an STL in moral theology from the Dominican House of Studies and received his doctorate in sacred theology (STD) from the Pontifical John Paul II Institute for Studies on Marriage and Family in 1999.