George Herbert Collection (5 vols.)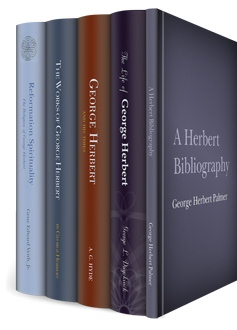 Overview
Let all the world in every corner sing, my God and King.
The heavens are not too high, his praise may thither fly:
The earth is not too low, his praises there may grow.
Let all the world in every corner sing, my God and King!
—from "Antiphon," The Works of George Herbert
George Herbert, in his poetic skill and the depth of the spiritual experiences he explores, may be the greatest of all religious poets. The George Herbert Collection contains all of Herbert's beloved poems, plus his letters and proverbs. To navigate Herbert's rich poetry, this collection contains Gene Edward Veith's Reformation Spirituality: The Religion of George Herbert. By illuminating the spiritual landscape of seventeenth-century England, Veith brings greater clarity to Herbert's poetry and prose. Examining the two side by side, Veith explains Herbert's work as a function of Reformation spirituality.
Also included in this collection are two classic biographies of George Hebert, George Herbert and His Times and The Life of George Herbert, as well as George Herbert Palmer's annotated bibliography of Herbert's works. With Logos Bible Software, these volumes are completely searchable—Scripture passages appear on mouseover and link to your original-language texts and English translations. For scholarly work or personal Bible study, this makes these works more powerful and easier to access than ever before. With Logos' advanced features, you can perform comprehensive searches by topic or Scripture reference—finding, for example, every mention of "faith" or "John 3:16."
Key Features
Contains all of George Herbert's poems and correspondence
Includes Gene Edward Veith's Reformation Spirituality: The Religion of George Herbert
Illuminates Reformation spirituality
Praise for the Print Edition
Herbert speaks to God like one that really believeth a God, and whose business in the world is most with God. Heart-work and heaven-work make up his books.
Individual Titles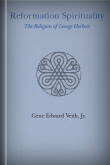 Reformation Spirituality is a study of the specific religious experiences and beliefs that Herbert writes about, both in his poetry and in his prose. As such, it also examines the spiritual landscape of seventeenth-century England, a period, for all of its controversies, still dominated by the understanding of God and the human condition articulated by Martin Luther and systemized by John Calvin. Reformation spirituality, which was different both from medieval Catholicism and later Protestantism, is itself little understood by literary historians, who have tended to look to medieval or Counter-Reformation ideas and practices or to a simplistic distinction between "Anglicans" and "Puritans" as ways of understanding the religion of the time. This study presents Reformation spirituality phenomenologically, from the inside. Just as Reformation spirituality illuminates Herbert's poetry, Herbert's poetry illuminates Reformation spirituality, showing the experiential and mystical dimensions of an important religious tradition.
"The Word of God," which was the controlling metaphor of both the Reformation and Herbert's poetry, the Reformation view of the Church, the new dignity of the "secular" sphere of life, and the impact of the Reformation on the arts and on poetry in particular are all considered in terms of Herbert's poetry, which stands as that movement's greatest poetic voice.
Gene Edward Veith Jr. is the Provost and Professor of Literature at Patrick Henry College, the Director of the Cranach Institute at Concordia Theological Seminary, a columnist for World Magazine and TableTalk, and the author of 18 books on different facets of Christianity and Culture. He also runs the popular blog Cranach, named after the great artist of the Reformation.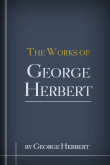 The Works of George Herbert contains all of Herbert's prose and poetry, as well as his personal correspondence. It includes all the poems from The Temple, The Church Militant, and A Priest to the Temple, plus numerous miscellaneous poems in English, Latin, and Greek. Jacula Prudentum—Herbert's popular list of "outlandish proverbs and sayings"—is contained therein. The correspondence is divided between his English letters and his Greek letters. Plus, this edition contains R. A. Willmott's careful notes and beautiful illustrations.
Men like George Herbert are rare. It is not his wide learning, nor his refined taste; not his high spirit, nor his amiability, nor his strictness of life; but the rare combination in one person of qualities so diversely beautiful. He was master of all learning, human and divine; yet his learning is not what strikes the reader most, it is so thoroughly controlled and subordinated by his lively wit and practical wisdom. He was a man of extraordinary endowments, both personal and such as belonged to his rank, not lost in indolence, nor wasted in trivialities, but all combined and cultivated to the utmost, and then devoted to the highest purpose.
—Christian Remembrancer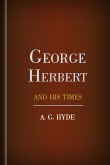 In George Herbert and His Times, A. G. Hyde unfolds the biography of Herbert while showing the relation of Herbert's work in his own and later times. It begins with a short introduction on the state of poetry in the seventeenth century. Hyde then proceeds to document Herbert's early life and education, his political career, and his life as a theologian, poet, and priest. Filled with numerous portraits and illustrations, Hyde takes an in-depth look at Herbert's work and contextualizes the poetry that continues to inspire readers today.
This is in every way an interesting book.
—Spectator
[Hyde] has a cultivated style, is well read in the general field, and from common sources has put together a thoroughly entertaining volume.
—Nation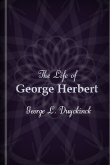 The Life of George Herbert endeavors to present the life and career of "holy Mr. Herbert" with a simplicity of style and fullness of detail. Duyckinck covers his ancestry, his days at Cambridge, his ordination, his ministry, his poetry, and much more.
George L. Duyckinck (1823–1863) was an editor for Literary World and, with his brother, the Cyclopedia of American Literature. He wrote numerous biographies, including those on Thomas Ken, Jeremy Taylor, and Hugh Latimer.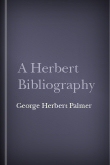 A Herbert Bibliography
Author: George Herbert Palmer
Publisher: Harvard University
Publication Date: 1911
Pages: 19
This bibliography of books relating to George Herbert comprises of 141 titles and 158 volumes. All the books are first editions unless otherwise specified. For convenience of reference, they are grouped under nine headings. It also includes the works written by his brothers as well as the works written by Herbert's close friend, Nicholas Ferrar.
George Herbert Palmer (1842–1933) was educated at Harvard University and Andover Theological Seminary. He was Alford Professor of Natural Religion, Moral Philosophy, and Civil Polity at Harvard. His works include The Glory of the Imperfect, The Nature of Goodness, and The Field of Ethics.
Product Details
Title: George Herbert Collection
Volumes: 5
Pages: 1,299
About George Herbert
George Herbert (1593–1633) studied at Trinity College, Cambridge. After college, he worked in Parliament for two years under King James VI. He was ordained into the Church of England in 1630 and spent the rest of his life in the little village of Fugglestone St. Peter. Herbert contracted tuberculosis, but just before he died, he passed his manuscript of poems to his good friend Nicholas Ferrar, asking him to burn them if he thought they weren't any good. The book would go through eight editions within the next 60 years, and today many of his poems have become popular hymns.
More details about these resources