Catholic Virtue and Holiness Collection (7 vols.)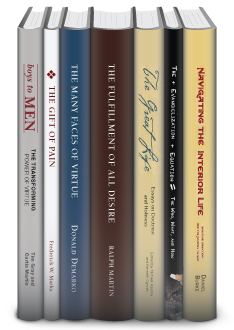 Catholic Virtue and Holiness Collection (7 vols.)
•
Runs on Windows, Mac and mobile.
Overview
Discover and apply the principles of virtue and holiness through these essential Catholic books from Emmaus Road. This collection provides practical insight on transformational practices in character for men and women who are seeking to be more like Christ. Learn from the experts and the saints with methods, practices, and examples of how to enrich your life with holiness and the love of God.
The Logos edition of these volumes allows you to study even further. Connect with the Catechism, the Bible, and the writings of the saints every time they are mentioned in the text. Footnotes, Bible references, and cross-references appear on mouseover, allowing you to dive right into the resources that support what you're reading.
Key Features
Explores examples of holiness in the lives of laypeople and priests
Provides insight to deeper prayer and devotional life
Restores hope for those desiring integrity and virtue in this life
Individual Titles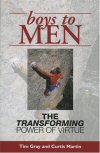 Need a spiritual workout? Boys to Men: The Transforming Power of Virtue is a Bible study designed specifically for men who want to build their spiritual strength. Each challenging lesson combines rich Scriptural teaching with centuries of Christian wisdom to train today's men for the virtuous life. With thought-provoking questions at the end of each chapter, this book is ideal for individual or group study.
This Bible study is intended for the growing number of men who are taking seriously their call to Christian discipleship.
Boys to Men: The Transforming Power of Virtue is a readable and reliable guide to learning, practicing, and passing on the virtues. The time-tested roadmaps leading to virtuous Christian manhood have been lost. Boys to Men will help Catholic men recover the virtuous life, thus becoming authentic men of God. Every Christian father needs a few essential books in his 'tool box.' This book is one of them. Get it, read it, and practice what it teaches!
—Steve Wood, founder, St. Joseph's Covenant Keepers
Boys to Men is a wonderfully written and well thought-out study guide on the transforming power of virtue. The authors blend a variety of life experiences along with solid support gathered from the Catechism and Holy Scripture. This book will make you work!
—Danny Abramowicz, executive director, Donum Dei Foundation
Through the years, many Catholic men have attended Promise Keepers' events. A sequence of 'mens books' have been written by men from a variety of backgrounds. Now, an excellent one has been written by a devout Catholic, rooted in Scripture and Catholic in style, Boys to Men will be a blessing and a challenge to any man.
—Bill McCartney, founder/president, Promise Keepers
Timothy Gray is the president of the Augustine Institute, an MA program in Sacred Scripture and evangelization & catechesis in Denver. He is also a professor of Sacred Scripture at St. John Vianney Theological Seminary. He holds a PhD in biblical studies from Catholic University of America, a ThM in Scripture from Duke University, and an MA in theology from Franciscan University of Steubenville.
Curtis Martin is the founding president of the Fellowship of Catholic University Students, a dynamic college campus evangelization and leadership training program. He received his BA in communications from Louisiana State University and his MA in theology from Franciscan University of Steubenville.

Frederick Marks puts pain in its place. Few readers will come away from this series of meditations without feeling lighter and more optimistic in the face of life's challenges.
Frederick W. Marks III is an American historian and Catholic apologist. As a scholar, he has written and taught extensively on American diplomatic history. As a proponent of Roman Catholicism, he has written dozens of articles and tracts, and spoken extensively in public. Marks attended Loyola High School in New York City, attained his BA from Holy Cross College in 1962 and his PhD from the University of Michigan in 1968. He taught at the University of Michigan from 1967–1968, at Purdue University from 1968–1973, and at St. John's University from 1974–1979.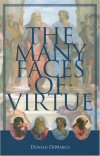 The Many Faces of Virtue
Author: Donald DeMarco
Publisher: Emmaus Road Publishing
Publication Date: 2000
Pages: 226
The Many Faces of Virtue is a personable collection of 48 short essays on the virtues, each no longer than six pages. Dr. DeMarco breathes life to the virtues with both historical and living anecdotes from the lives of such great heroes as Mahatma Gandhi, Helen Keller, Pope John Paul II, J.R.R. Tolkein, and Emily Dickinson.
Dr. DeMarco's vast knowledge of philosophy, literature, contemporary life, and politics helps him portray the virtues so that readers get to know them personally. The easy-to-read style of this entertaining book will make it a popular choice for any reader.
Dr. DeMarco divides the book into groups of personal, interpersonal, social, and sacred virtues. While some people may not think of some of these as virtues—for instance, lightheartedness, decency, and solidarity—DeMarco shows how they contribute to personal holiness.
Donald DeMarco is a professor of philosophy at St. Jerome's University in Waterloo, Ontario, Canada, and a member of the American Bioethics Advisory Commission. He is the author of numerous books and has written hundreds of articles for both popular and scholarly publications. He received his MA and PhD from St. John's University in New York, and has studied at the Gregorian University in Rome.

Ralph Martin, drawing upon the teaching of seven acknowledged Doctors of the Church, presents an indepth study of the journey to God. This book provides encouragement and direction for the pilgrim who desires to know, love, and serve our Lord. Whether the reader is beginning the spiritual journey or has been traveling the road for many years, he will find a treasure of wisdom in The Fulfillment of All Desire. It is destined to be a modern classic on the spiritual life.
There will never be a better time or a better set of circumstances than now for anyone of us to respond to the call to holiness. Ralph Martin in this book using the Carmelite Doctors of the Church, Augustine, Bernard, Catherine of Siena and Francis de Sales presents a thorough and excellent account of the entire spiritual life, from the first ascetical steps to the highest mystical union with God. Anyone, priest, religious or member of the laity looking for a complete blue print of the spiritual journey will find it in this book.
—Fr. Kieran Kavanaugh, OCD
Ralph Martin gives us a rich and clear description of progress, and especially of progress through prayer in union with God, drawing on the wisdom of the saints. This practical manual for the Christian life, interesting and easy to read, should become a spiritual classic.
—Fr. Robert Faricy, SJ
If you are seriously interested in the steps of the spiritual journey, this book will give you a wealth of readings from the great Catholic masters of the spiritual life, ranging from Augustine to Therese. This is a book to keep at your place of prayer for years to come. Ralph Martin has given us the fruit of years of study of the spiritual life in the great Catholic tradition. It is a treasure chest of quotations of the greatest writers on the journey to God. Careful reading and rereading will be a source of powerful inspiration for all those on the spiritual journey.
—Fr. Benedict J. Groeschel, CFR, founder, Friars of the Renewal
I've benefited greatly over the years as I've come into contact with the Spirit-inspired wisdom of great men and women of God like Bernard of Clairvaux and Teresa of Avila. Ralph Martin has written an excellent book that gathers together the wisdom of Bernard, Teresa and others as well who have left us with a great store of wisdom about how we can cooperate with the transforming work of the Spirit. Ralph has researched and taught these themes for many years and has put these truths into practice in his own life. Without watering down the depth of these writers Ralph has made their teachings understandable and accessible and given us a true 'guidebook' for the journey to God. Men and women in all parts of the Body of Christ will find this book both inspiring and practically useful. A great help for our life of prayer.
—Pastor Mike Bickle, founder, International House of Prayer, Kansas City
Ralph Martin has been a leader in renewal movements in the Church for many years, and the author of many books, articles, and audio albums on contemporary issues in the life of the Church and the teachings of the saints. He is currently the director of graduate programs in the new evangelization at Sacred Heat Major Seminary in the Archdiocese of Detroit and is an assistant professor of theology. He continues to lead the work of Renewal Ministries, an organization devoted to Catholic Renewal and Evangelization and hosts the weekly television program "The Choices We Face."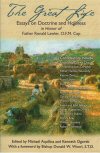 The Great Life: Essays on Doctrine and Holiness in Honor of Fr. Ronald Lawler, O.F.M. Cap.
Authors: Cardinal Donald W. Wuerl, Archbishop Charles J. Chaput, O.F.M. Cap., Archbishop Sean O'Malley, O.F.M. Cap., Fr. Thomas Weinandy, O.F.M. Cap., Katrina Zeno; Russell Shaw; Scott Hahn; Janet Benestad, Brian Benestad, Robert George, Gerard Bradley, William May, Evelyn Billings, John Billings, Fr. Augustine DiNoia, O.P., Father Kris Stubna, Patrick Riley, William Saunders, Fr. Ronald Lawler, and Robert Lockwood
Editors: Michael Aquilana and Kenneth Ogorek
Publisher: Emmaus Road Publishing
Publication Date: 2005
Pages: 248
This collection of essays presents the answer of faith to many questions of our culture.
Father Ronald Lawler, O.F.M. Cap. (1926–2003), was a priest, teacher, author, theologian, catechist, spiritual advisor, and mentor, who lived the great life of faith and encouraged others to join him in loving Christ and his Church. In The Great Life, those who knew and loved Father Lawler honor him by continuing his work of presenting the faith in its fullness and beauty. This collection of essays is not only an invitation to know the faith, but also to love, live, and teach it from the heart of the Church.
Teaching the Catholic faith well . . . was the lifelong work of Father Lawler. . . . In applying himself to the work of catechesis, Father Lawler encountered dozens of brilliant Catholic women and men—scholars and leaders in their respective fields—many of whom got to know him well and, knowing him, loved him.
Many of these great Catholic minds and hearts desired to honor Father Lawler's memory by offering their thoughts on the teaching of the Faith. This book presents these essays, not only to honor Father Lawler, but more importantly to continue his work of presenting the Faith it its fullness and beauty.
Father Lawler's dearest desire was for all women and men to walk with our Lord as their saving Friend, living the great life of faith as members of His one Body, our Church. These essays will inspire many on their walk of faith.
—From the Introduction
The Evangelization Equation: The Who, What, and How
Author: James A. Wehner
Publisher: Emmaus Road Publishing
Publication Date: 2011
Pages: 152
The Evangelization Equation: The Who, What, and How is a crash course in the "New Evangelization" to which both Popes John Paul II and Benedict XVI have called all Catholics. Father Wehner explores the challenges and the opportunities in American culture for spreading the Gospel. While giving a full presentation of the cultural, historical, pastoral, and theological background of his topic, he also communicates the very practical implications of the call.
Father Wehner, who made the "New Evangelization" his area of specialization at the Pontifical Gregorian University, has been educating seminarians since 2002. He also has pastoral experience in a large and vibrant parish and has worked with the Catholic Men's Fellowship in the Diocese of Pittsburgh.
The reader, upon finishing this book, will be equipped with the intellectual and practical tools to move forward as an effective evangelist.
James A. Wehner is rector and president of the Pontifical College/Seminary Josephinum in Columbus, OH. Father Wehner was ordained for the Diocese of Pittsburgh in 1995 after completing a BA in philosophy from Duquesne University and the STB from the Pontifical Gregorian University. He earned his STL from the Pontifical Gregorian University in 1996 and the STD in 2001 with a specialization in the New Evangelization.

Navigating the Interior Life: Spiritual Direction and the Journey to God
Author: Daniel Burke and John Bartunek
Publisher: Emmaus Road Publishing
Publication Date: 2012
Pages: 284
Navigating the Interior Life provides a straight forward framework for effective spiritual direction and an understanding of how to experience growth both within and outside of a spiritual direction relationship. If you are looking to dig deeper, if you are stuck and don't know why, if your relationship with God seems like something far less than you desire, this book will provide the necessary tools to better understand how to navigate the challenging waters on our journey toward our complete union in Christ—in this life and the next.
A must read for all sincere God-seekers—one of the most unique and comprehensive guides to the spiritual life I've seen.
—Donna-Marie Cooper O'Boyle, EWTN host, speaker, and author of Rooted in Love: Our Calling as Catholic Women
I count myself among the many who have long needed spiritual direction, but have been unsure regarding who to receive it from or how to get started. Dan Burke's wonderful new book is filled with practical wisdom and sound Church teaching on how to navigate and grow our interior lives. I will be referring to and recommending this gem for the rest of my life. Well done!
—Randy Hain, senior editor of the Integrated Catholic Life eMagazine and author of The Catholic Briefcase: Tools for Integrating Faith and Work
Along with the helpful and concise information on creating, nurturing and sustaining effective spiritual direction relationships, the books dives even more deeply into how to live a true life of virtue. Dan Burke is a trusted guide to help you look at the roots sins that cause your separation from Christ and how to move beyond those with a Rule of Life guided by virtue that will help any spiritual seeker achieve lasting progress in his or her interior life.
—Lisa M. Hendey, author, The Handbook for Catholic Moms
Daniel Burke is the founder of Catholic Spiritual Direction, the most widely read blog on the topic of authentic Catholic spirituality. Dan is also the executive director and writer for EWTN's National Catholic Register, a regular co-host on Register Radio, and author of Apologetics of Extraordinary Love.
Product Details
Title: Catholic Virtue and Holiness Collection (7 vols.)
Publisher: Emmaus Road Publishing
Volumes: 7
Pages: 1,620