Augsburg Fortress Jesus Studies Collection (18 vols.)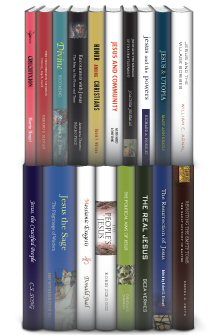 Augsburg Fortress Jesus Studies Collection (18 vols.)
•
This title is no longer available for purchase.
Overview
This collection provides readers with the best in scholarship from well-known names in the field of New Testament and Jesus studies including Ben Witherington III, Richard Horsley, Mary Ann Beavis, and more! Bringing together their expertise, the Augsburg Fortress Jesus Studies Collection offers pastors, students, and laypeople a deeper look at numerous topics surrounding Jesus' character, power, and impact.
The collection reveals the historical and social setting surrounding Jesus' ministry. It presents Jesus as a politician and prophetic sage, highlighting his message, impact, activities, and response to the imperial power during the period of his ministry. Several volumes analyze the nature, implications, and historical impact of Christ's crucifixion.
The collection also studies the historical reality and theological meaning of Jesus' resurrection, and illustrates the significance of Jesus' incarnation. It critiques various New Testament hypothesis, including Wrede's messianic secret, Theissen's "wandering radicals," and Jesus' teaching on basileia. In addition, it provides a social history of the earliest churches, presents an Asian Christology, calls the present-day church to be a "contrast society," and explores historical and modern-day portrayals of Jesus.
The Logos Bible Software edition of the Augsburg Fortress Jesus Studies Collection is designed to encourage and stimulate your study and understanding of Jesus Christ. Scripture passages link directly to your English translations and to the original-language texts, and important theological concepts link to dictionaries, encyclopedias, and a wealth of other resources in your digital library. In addition, you can perform powerful searches by topic and find what other authors, scholars, and theologians have to say about Jesus.
Key Features
Presents various roles Jesus played
Provides an in-depth look at the historical and social setting surrounding Christ's ministry
Analyzes the impact of Christ's crucifixion, resurrection, and incarnation
Product Details
Title: Augsburg Fortress Jesus Studies Collection
Publisher: Augsburg Fortress
Volumes: 18
Pages: 4,157