Baker Academic Church History Collection (4 vols.)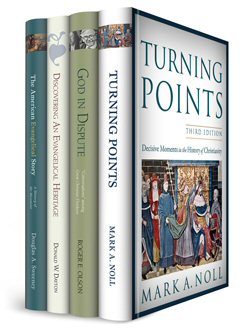 Baker Academic Church History Collection (4 vols.)
•
Runs on Windows, Mac and mobile.
Overview
This collection includes four volumes on church history. It allows readers to discover the people and events that have impacted and shaped Christianity. Two volumes focus on the broader scope of church history—key events and figures. Turning Points concentrates on 14 critical moments in church history. God in Dispute presents 29 imaginary dialogues and debates between church history's leading figures, assessing each theologian and the key issues they presented. The collection's other two volumes focus on American Evangelicalism. They analyze its rise, social reforming roots, key figures, subgroups, current challenges, and future.
With the Logos edition of the Baker Academic Church History Collection, you can instantly access important information about dozens of prominent individuals and historical Christian events that have influenced—and continue to influence—the church. The advanced search tools in Logos Bible Software give you instant access to the subjects, topics, and individuals you're looking for. All Scripture references are also linked directly to the Bibles in your library, making God's Word instantly accessible.
Key Features
Analyzes evangelicalism's history
Provides 29 imaginary dialogues and debates between key theologians
Studies important events that impacted church history
More details about these resources