Wayne Detzler Collection (5 vols.)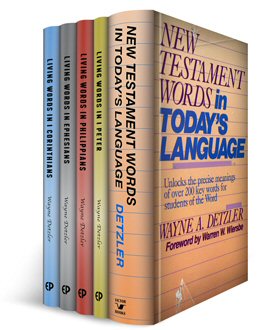 Overview
The Wayne Detzler Collection presents five volumes devoted to New Testament word studies. Detzler's Living Words series contains over one hundred word studies from 1 Corinthians, Ephesians, Philippians, and 1 Peter. New Testament Words in Today's Language unlocks the precise meanings of over 200 key New Testament words, examining each word's meaning and biblical usage and providing personal and literary illustrations. Pastors, Sunday school teachers, and lay people will find this collection useful for personal Bible study and sermon and lesson preparation.
With Logos Bible Software, this collection is completely searchable, with passages of Scripture appearing on mouse-over, as well as being linked to the original Greek texts and English translations in your library. With the advanced search features of Logos Bible Software, you can perform powerful searches by topic or Scripture reference—finding, for example, every mention of "worship," or "Ephesians 6:13."
Key Features
Examines over 300 New Testament words
Provides each word's precise meaning and usage
Discusses theological and societal backgrounds of words
About Wayne Detzler
Wayne Detzler received his BA and MA from Wheaton and his PhD from the University of Manchester. He is the academic dean of Southern Evangelical Seminary. He is also the director of the Graduate School of Ministry and Missions and the director of the Bible College in addition to being a professor of biblical studies, missions, and historical theology.
More details about these resources