George Barker Stevens Collection (6 vols.)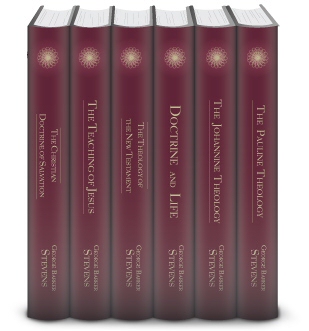 George Barker Stevens Collection (6 vols.)
•
Runs on Windows, Mac and mobile.
$30.00
Reg.: $59.95
Print: $125.87
* Projected price. Future bids may change this price.
Place Your Bid!
Click on the highest price you'd pay. If the final price is lower, that's what you'll pay.
Overview
The George Barker Stevens Collection contains six important works from George Barker Stevens, former chair of New Testament criticism and interpretation at Yale Divinity School. This collection includes:
The Christian Doctrine of Salvation—Stevens' biblical, historical, and constructive investigation of the doctrine of salvation
The Teaching of Jesus—a clear, succinct, and systematic overview of Jesus' life and work
The Theology of the New Testament—Stevens' examination of the doctrinal contents of the New Testament, laid out in systematic form
Doctrine and Life—a practical guidebook of the fundamental doctrines for Christian thought, life, and character
The Johannine Theology—an important volume in which Stevens' unpacks the theological contents of the Gospel and Epistles of John
The Pauline Theology—a systematic account of Paul's teachings and work
With the Logos Bible Software edition, all Scripture passages in the George Barker Stevens Collection are tagged and appear on mouseover. This makes these resources more powerful and easier to access than ever before for scholarly work or personal Bible study. With Logos' advanced search features, you can perform split-second searches by topic or Scripture reference—finding, for example, every mention of "grace" or "1 Corinthians 13:4."
Key Features
Compiles six key works by George Barker Stevens
Includes both The Pauline Theology and The Johannine Theology
Product Details
Title: George Barker Stevens Collection
Volumes: 6
Pages: 2,370
About George Barker Stevens
George Barker Stevens (1854–1906) was born in Spencer, NY. He was educated at Cornell University and the University of Rochester, and then at the Baptist Seminary in Rochester and Yale Divinity School. He earned his DD from the University of Jena, Germany. He was the chair of New Testament criticism and interpretation at Yale from 1886 to 1895, and then Dwight Professor of Systematic Theology until his death.