Poor Man's Old and New Testament Commentary (12 vols.)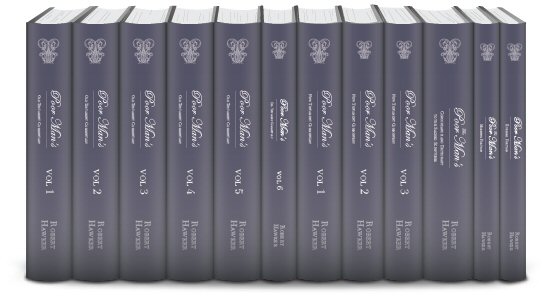 Poor Man's Old and New Testament Commentary (12 vols.)
•
Runs on Windows, Mac and mobile.
Overview
Charles Spurgeon exhorted his students, "Gentlemen, if you want something full of marrow and fatness, cheering to your own hearts by way of comment, and likely to help you in giving to your hearers rich expositions, buy Dr. Hawker's Poor Man's Commentary . . . he sees Jesus, and that is a sacred gift which is most precious." Delve into the exegetical and devotional writings of one of the most influential preachers and theologians of eighteenth- and nineteenth-century England. His thoroughly Christ-centered view of Scripture comes through clearly in his extensive nine vol. commentary on the whole Bible. According to Joel R. Beeke of Puritan Reformed Theological Seminary, "Hawker increased in fame and popularity as a powerful 'high Calvinist' preacher" and "was remarkably winsome in preaching Christ to all." Hawker brings his homiletical skill to the reading of Scripture in this rich commentary. His two devotional volumes, included in this collection, will guide you through deep morning and evening meditations on God's Word. Also included in this collection is The Poor Man's Dictionary, Hawker's nearly 1,000-page work on the words of the Old and New Testaments, written as a companion volume to his commentaries. Much more than a dictionary, this work provides encyclopedic and theological treatment on all the words in the Bible.
Key Features
Verse-by-verse commentary on the whole Bible
Concise summaries of every chapter of the Bible
Devotional reflections on every chapter of the Bible
Extensive Bible dictionary on all the words in Scripture
Praise for the Print Edition
There is always such a savor of the Lord Jesus Christ in Dr. Hawker that you cannot read him without profit . . . Full of devotion and sweetness.
—Lectures to My Students, vol. 4, by Charles Spurgeon
Hawker excels in Christ-centered, experiential divinity. He was taught by the Spirit how to find Christ in the Scriptures, as well as how to present Him to hungry sinners in search of daily communion with a personal Redeemer. For the genuine Christian, here is devotional writing at its best: it is always warmly Christ-centered, eminently practical, personally searching.
Individual Titles
Product Details
Title: Poor Man's Old and New Testament Commentary
Author: Robert Hawker
Volumes: 12
Pages: 7,981
About Robert Hawker
Robert Hawker (1753–1827) was a Calvinist preacher in the Church of England. He was educated at Magdalen College, Oxford, and he received his Doctor of Divinity from the University of Edinburgh. Most famous for his pulpit ministry, Robert Hawker was a very well-known and beloved preacher who drew great crowds with his charismatic character, his scholarship, and his erudition. Far from being an ivory-tower minister, Hawker was intimately involved in mercy ministries to the oppressed and needy of his community. He founded the Misericordia Fund to provide relief for the needy and the Corpus Christi Society for needy Christians. He also actively founded schools for underprivileged children and the Great Western Society for Dispersing Religious Tracts among the Poor of the Western District.