The Lexham Clausal Outlines of the Greek New Testament: SBL Edition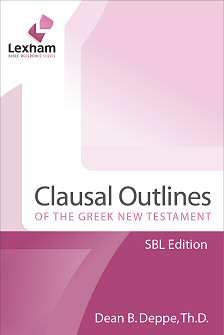 The Lexham Clausal Outlines of the Greek New Testament: SBL Edition
•
Overview
One of the most helpful exegetical resources for Greek students is a structural outline of the Greek text. Main verbs identified within a paragraph help students see the big picture. To keep sentences short, English translations frequently make main clauses out of participles and relative clauses—prohibiting readers from visualizing the main points of the author. Greek clausal outlines help the readers determine the main thoughts of the author and how the dependent clauses fit into the flow of the author's arguments. This resource includes the text of the Nestle-Aland 26th edition of the Greek New Testament arranged by Dr. Deppe. It also includes full morphological tagging, dictionary forms of Greek words for easy lookup, direct references to the Louw-Nida Greek-English lexicon, and English literal translations for each word in the Greek New Testament.
Key Features
Allows the reader to isolate and analyze the syntax and grammar of independent clauses
Identifies main verbs within a paragraph
Helps to determine the main thoughts of an author
About Dean Deppe
Dean Deppe is professor of New Testament theology at Calvin Theological Seminary. Prior to 1998 he served for 20 years as pastor of four Christian Reformed churches.
More details about this resource