Jürgen Moltmann Collection (22 vols.)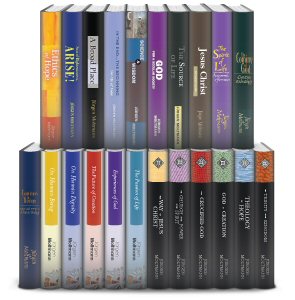 Overview
German Reformed theologian Jürgen Moltmann is one of today's most influential Christian thinkers. Proclaiming a theology built on eschatology and the hope found in the resurrected Christ, he believes that God's promise to act in the future is more important than the fact that God has acted in the past. For Moltmann, hope and faith depend on each other to remain true and substantial; only with both may one find "not only a consolation in suffering, but also the protest of the divine promise against suffering."
Though deeply theological, Moltmann's work remains pastoral and easily accessible. He draws from his experiences in WWII POW camps, which spurred him to Christianity in the first place, and asserts that hope in Christ should be the central motivating factor in the church's life and thought. His unique approach to theology, as well as his incorporation of insights from liberation theology and ecology into mainstream theological thought, has garnered national acclaim and earned him the 2000 Grawemeyer Award in Religion.
With the Logos Bible Software edition of the Jürgen Moltmann Collection, you have Moltmann's insight and wisdom at your fingertips. Scripture passages appear on mouseover, and all cross-references link to the other resources in your digital library, making this collection powerful and easy to access—a cornerstone resource for any study on eschatology or hope. Perform comprehensive searches by topic or Scripture reference—finding, for instance, every mention of "hope" or "eternity."
Key Features
Comprehensive collection of Jürgen Moltmann's theological works
Insight into Moltmann's "theology of hope"
Moltmann's autobiography
Product Details
About Jürgen Moltmann
Jürgen Moltmann studied Christian theology in England and, after his return to Germany, in Göttingen. He served as a pastor from 1952 to1958 in Bremen. Since 1967 he has been Professor of Systematic Theology at the University of Tübingen and retired there in 1994. Among his many influential and award-winning books are The Theology of Hope (1967), The Crucified God (1974), The Trinity and the Kingdom (1981), The Spirit of Life (1994), and The Coming of God (1996), winner of the Grawemeyer Award in 2000, all published by Fortress Press.