Henry Clay Trumbull Collection (34 vols.)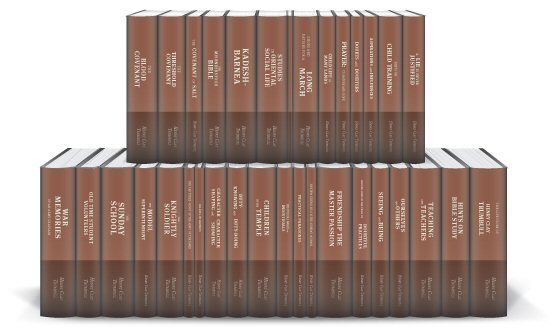 Henry Clay Trumbull Collection (34 vols.)
•
Runs on Windows, Mac and mobile.
$60.00
Reg.: $399.95
Print: $599.00
* Projected price. Future bids may change this price.
Place Your Bid!
Click on the highest price you'd pay. If the final price is lower, that's what you'll pay.
Overview
The Henry Clay Trumbull collection contains 32 of Henry Clay Trumbull's best books, a biography detailing Trumbull's life, and several of his essays. An outstanding chaplain in the Union Army during the American Civil War, Trumbull was also the preeminent leader of the Sunday School Movement, which is largely responsible for the standard convention of Sunday school at churches nationwide. His writings contain rare and unique insight into the daily spiritual life of soldiers during the Civil War, the political and spiritual issues behind the initial organization of Sunday schools, and Trumbull's own deep research into Old Testament history and theology.
This collection includes studies of Middle East culture in Studies in Oriental Social Life and Child Life in Many Lands as well as biographies and eulogies, including the page-turning Falling in Harness and the personal, intimate account of The Knightly Soldier. This collection is a must-have for Civil War readers and for those following American church movements.
In the Logos Bible Software digital edition, all references appear on mouseover. Whether you are reading for pleasure or doing intensive research, the ease-of-access to Scripture references will instantly take your reading to a much deeper level. The entire collection is also searchable, allowing you to find anything Henry Clay Trumbull says about "Sunday school" or "Psalm 32."
Key Features
Explores the spiritual lives of soldiers of the American Civil War
Reveals the struggles and successes of the early Sunday School Movement
Expounds into philosophy, theology, and ethics of character
Product Details
Title: The Henry Clay Trumbull Collection
Authors: Henry Clay Trumbull, Philip E. Howard
Volumes: 34
Pages: 9,203
About Henry Clay Trumbull
Henry Clay Trumbull (1830–1903) was an American chaplain in the Union Army during the American Civil War. He was a pioneer in the Sunday School Movement, and later was an editor of the Sunday School Times. He was ordained as a Congregational minister, and although his sickly health prevented him from furthering his education, he earned three honorary degrees from Yale, Lafayette, and the University of New York.