Caring for People God's Way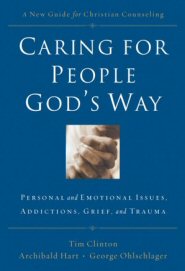 Overview
Caring for People God's Way presents Christian counseling in a systematic, step-by-step manner that outlines the process as practically as possible. It then applies the process to the most common issues faced by Christian counselors: personal and emotional issues, trauma, grief, loss, and suicide.
Caring for People God's Way is a collection of articles on counseling from a Christian perspective. Some of the topics addressed in this resource include:
Stress and anxiety
Perfectionism and obsessive-compulsive disorder
Anger
Personality disorders
Gambling, spending, and sexual addictions
Trauma and PTSD
Abortion and post-abortion syndrome
Introduction to Biblical Counseling: Becoming a Biblical Counselor is a 45-minute instructional video resource taught by Tim Clinton that accompanies Caring for People God's Way.
In the Logos edition of Caring for People God's Way, you get easy access to Scripture texts and to a wealth of other resources in your digital library. Hovering over Scripture references links you instantly to the verse you're looking for, and with passage guides, word studies, and a wealth of other tools from Logos, you can delve into God's Word like never before!
Key Features
Strategies for intervention
Foundations of Christian counseling
Key characteristics of effective counselors
Biblical principles in counseling
Product Details
Title: Caring for People God's Way
Editors: Tim Clinton, Archibald Hart, and George Ohlschlager
Publisher: Thomas Nelson
Publication Date: 2005
Pages: 543
Video Length: 46 minutes
Video Publication Date: 2007
Video Producer: Light Learning Institute
About the Editors
Tim Clinton (EdD, The College of William and Mary) is the president of the American Association of Christian Counselors (AACC), executive director of the Center for Counseling and Family Studies, professor of counseling and pastoral care at Liberty University and Liberty Baptist Theological Seminary, and a licensed professional counselor. He's the author or editor of 14 books and lives in Virginia.
Archibald Hart is a licensed psychologist, certified biofeedback practitioner, and board certified diplomate fellow in psychopharmacology. A former dean of the School of Psychology, Hart is now a senior professor of psychology and is best known for his research on the hazards of ministry, depression, anxiety, divorce, stress, and sexuality. He has published 24 books, including Stressed or Depressed, Safe Haven Marriage, Unmasking Male Depression, and The Anxiety Cure.
More details about these resources