The Theology of Luther in Its Historical Development and Inner Harmony (3 vols.)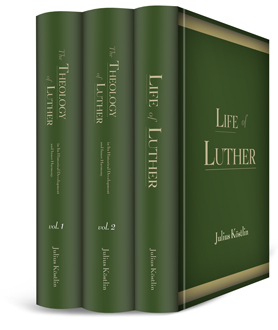 The Theology of Luther in Its Historical Development and Inner Harmony (3 vols.)
•
Runs on Windows, Mac and mobile.
Overview
This collection is a quintessential look at Martin Luther's life and beliefs. The only three books of Julius Köstlin that have been translated into English, these volumes contain a wealth of knowledge and decades of research on Luther's life, struggles, and triumphs. Study the relationship between the events of Martin Luther's life, the methods of his thinking, and how these informed his theology and, eventually, his reform.
This Logos edition takes your research deeper than ever, with fully-searchable text, hyperlinked Bible verse references and cross-references with other volumes in your library, and instant access to theological concepts and terms through your Bible dictionaries, commentaries, and academic texts. Compare the German Bible as read by Julius Köstlin with the original-language texts with the click of a mouse, or have Luther's 95 Theses open and read alongside this well-informed theological biography of the most well-known reformer in the history of the church.
Key Features
Provides a detailed and in-depth narrative of Luther's life
Studies and defends the theology Luther believed in
Presents an understanding of Martin Luther from someone who devoted a lifetime to researching his life
Praise for Julius Köstlin
'The investigations of the Reformer,' says Dr. Julius Köstlin, who is perhaps his best modern interpreter, 'lead to a clear conclusion that there is, according to the divine order, no external, tangible, final decision in matters of faith.' . . . Luther, who had both a clear vision and an indomitable moral as well as physical courage, struck at the heart of ecclesiastical imperialism in his doctrine that the final authority in the spiritual realm is within, not without; in the conscience, not in a church or a book.
—Lyman Abbott from The Rights of Man: A Study in Twentieth Century Problems
Product Details
Title: The Theology of Luther in Its Historical Development and Inner Harmony
Author: Julius Köstlin
Volumes: 3
Pages: 1,624
Individual Titles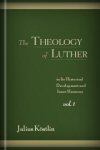 This unique work is a biography of Martin Luther that traces his theology through the dramatic events of his life. Translated from its original nineteenth-century German, this volume analyzes the inner workings of his theology, finding an internal harmony between his beliefs and his practices.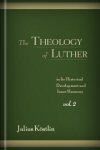 Continuing with an examination of Martin Luther, this volume picks up with Luther's retirement and the theology that grew from his life experiences. With extensive indexes pointing back to the relevant ideas and concepts of his theology and life, this volume completes the theological synopsis of Martin Luther's life.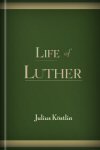 One of Julius Köstlin's better-known works, this biography of Martin Luther is a devoted exposition of his life and acts—from his youth to his death—in clear and comprehensive detail.
About Julius Köstlin
Julius Köstlin (1826–1902) was a German theologian, linguist and historian, especially knowledgeable in the Reformation era of history. He received his PhD in 1855 and began teaching at the University of Goettingen. Köstlin wrestled with Luther's theology his whole life and often engaged in theological debates with his contemporary, John Janssen, a Catholic historian and his antithesis. He later taught at the University of Breslau and the University of Halle, and worked on both the original Encyclopedia of Protestant Theology and Church, and on Luther's Catechism.
More details about these resources