John Chrysostom Collection (7 vols.)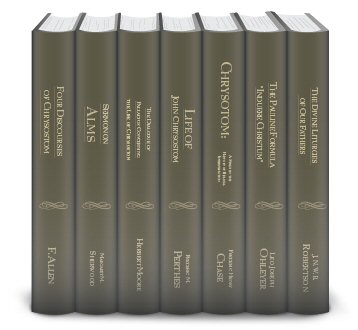 Overview
Known for his eloquent preaching and public speaking, John Chrysostom (c. 347–407), given the posthumous Greek epithet chrysostomos or "golden mouthed," was the archbishop of Constantinople and an influential Early Church Father. He is recognized as a saint in the Orthodox and Eastern Catholic Church and is one of the Three Holy Hierarchs along with Basil the Great and Gregory Nazianus.
Given to extreme asceticism, he lived as a hermit for two years before poor health forced him to return to Antioch, where he was ordained as a deacon, and later a priest, of the Antiochene Church. His insightful expositions and discourses on the Bible made him a popular orator in the Church, and he was appointed archbishop of Constantinople in 397.
Praised as "the greatest preacher in the early church" John Chrysostom's homilies and discourses have been a lasting legacy. With the Logos Bible Software edition of John Chrysostom Collection, you have his famous and influential oratories and writings at your fingertips. Scripture passages appear on mouseover, and all cross-references link to the other resources in your digital library, making this collection powerful and easy to access—a rich supplement to any study on the Antiochene Church. Perform comprehensive searches by topic or Scripture reference—finding, for instance, every mention of "Lazarus" or "Antioch."
Key Features
Contains biographies of John Chrysostom
Includes key discourses and oratories
Provides criticism and application of Chrysostom's work
Product Details
Title: John Chrysostom Collection (7 vols.)
Volumes: 7
Pages: 1,599
About John Crysostome
John Chrysostom (347–407) was the archbishop of Constantinople and an influential early Church Father. He was known for his oratorial skills and was given the epithet chrysostom, or "golden-mouthed," after his death.