The Artistry of the Joseph Narrative (2 vols.)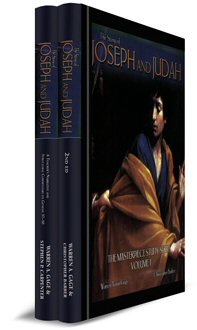 The Artistry of the Joseph Narrative (2 vols.)
•
Runs on Windows, Mac and mobile.
Overview
The Artistry of the Joseph Narrative collection provides a complete study on the Joseph and Judah narrative. The Story of Joseph and Judah takes readers through Genesis 37–50 and introduces them to various methods of inductive Bible study. The teacher's guide, designed for pastors and leaders, illuminates the narrative's background, thoroughly explores each episode of the story, and lends itself to sermon preparation or group study.
In the Logos edition, all Scripture passages link to your favorite Bible translation and to the original language texts in your library. Enhance your understanding of the narratives of Joseph and Judah with Logos' cutting-edge features—search your whole library by topic or passage to find exactly what you're looking for.
Key Features
Studies the Genesis 37–50 narrative
Provides methods for inductive Bible study
Includes a teacher's guide for enhancing your understanding of the narratives of Joseph and Judah
Individual Titles

The Story of Joseph and Judah takes one of the most beautiful stories in all of Scripture and walks readers through an enhanced method of inductive Bible study. It shows the value of both scientific analysis and literary sensitivity in Bible study and introduces the student to chiastic structure and typological focus. The volume demonstrates that while the Joseph account is a wonderful story of a good and godly man, it is really an account of Judah's redemption—the son of Jacob who was to receive the scepter in Israel. It demonstrates how the story is a foretelling of the Gospel of Jesus Christ. This volume is designed for individual or group study.
The Story of Joseph and Judah is a fresh and biblically-sound examination of this passage of Scripture. I enjoyed it tremendously and am glad to recommend it. . . . If you are interested in a guide for personal or group Bible study, you likely won't do much better than this.
—Tim Challies, pastor, Grace Fellowship Church, Toronto, Ontario
. . . this study helps the student of this wonderful account understand the structure of the Joseph narrative and its key themes, and how these apply to today. Undergirding their study is a rich sense of the typological framework of the Scriptures and the intertextual linkages of the Bible that are so key to its understanding.
—Michael A. G. Haykin, professor of church history and biblical spirituality, The Southern Baptist Theological Seminary
As the small groups pastor of our large church, I am always looking for quality, well written and researched materials to use in Bible study groups. I had the privilege of using The Story of Joseph and Judah in one of my men's groups this winter. . . . The materials were engaging and artfully presented. Our men looked forward to our study time each week and all came away with a clear understanding of the text. The flow of the chapters lent itself to men who are adept at preparing for each meeting as well as those who took a more relaxed attitude.
—Russell Silverglate, pastor, Hammock Street Church, Boca Raton, FL
Christopher Barber is a graduate of Knox Theological Seminary. He currently serves as a lawyer in Fort Lauderdale, FL.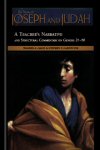 This teaching supplement is designed for preachers and teachers as they unfold the Joseph and Judah narrative to congregations and Bible study groups. This volume supplements and enhances the background to Genesis 37–50. It takes readers on a deeper journey into the closing narrative of Genesis, exploring more thoroughly how each episode of Joseph and Judah's story is artistically composed and pieced together in a story flow. Besides containing material that will enrich the use of The Story of Joseph and Judah in Bible study settings, it is written in a way that will allow pastors and teachers to use it directly for teaching on this important narrative.
Steven P. Carpenter is a visiting lecturer of biblical theology at Knox Theological Seminary.
Product Details
Title: The Artistry of the Joseph Narrative
Publisher: St. Andrews House
Volumes: 2
Pages: 211
About Warren A. Gage
Warren A. Gage is the president of the Alexandrian Forum, a ministry dedicated to bringing in-depth biblical and classical education back to our churches and communities. Warren holds a ThM from Dallas Theological Seminary, a JD from Southern Methodist University, and a MA and PhD from the University of Dallas. Prior to his work for the Alexandrian Forum, he served as a professor of Old Testament and classical studies at Knox Theological Seminary. He is known for his advocacy of biblical typology and a literary approach to biblical exposition which demonstrates that all of Scripture points toward Christ.
More details about these resources