Gary Staats Commentary (4 vols.)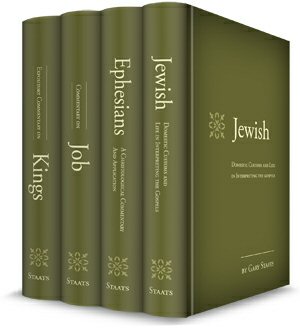 Overview
In this four-volume set, Gary Staats offers a thorough commentary on and analysis of 1 and 2 Kings, Job, and Ephesians as well as an in-depth exposition of Jewish domestic customs and their relevance to Scripture. Staats takes on Scripture systematically, carefully examining each verse for the author's intent in order to form a holistic view of the Word. His conscientious study reveals the heart of God through hermeneutics as he reflects on the Scriptures' content and context.
In the Logos edition, the Gary Staats Commentary is completely searchable—Scripture passages appear on mouse-over and link to the Greek and Latin texts and English translations in your library. This makes these volumes more powerful and easier to access than ever before. Perform powerful searches by topic or Scripture reference—finding, for example, every mention of "sorrow" or "anointed."
Key Features
Offers sound exegesis of 1 and 2 Kings, Job, and Ephesians
Provides detailed insight into the daily customs and aspects of Jewish domestic life
Reflects on the content and context of Scripture
About Gary Staats
Gary Staats is the Gale and Harriette Ritz Professor of Old Testament at Winebrenner Theological Seminary. An American Baptist minister, he has taught and pastored for almost 40 years. He has also written numerous ebooks on Christological Hebrew grammar, Christological Greek grammar, Old and New Testament exegesis, and biblical theology.
More details about these resources