Missals of the Roman Catholic Church (3 vols.)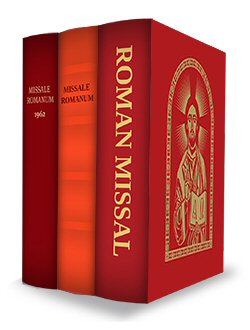 Missals of the Roman Catholic Church (3 vols.)
•
Runs on Windows, Mac and mobile.
Overview
The Roman Missal is a collection of prayers, chants, and rubrics for celebrating the Latin Rite Catholic mass. The Missals of the Roman Catholic Church (3 vols.) includes the 1962 Missale Romanum, in addition to the Latin and English versions of the current Roman Missal, Third Edition, approved by Pope John Paul II.
The Missals include the Order of the Mass, which contains the parts of the liturgy that are consistent in every mass, the Propers, which dictate prayers for feast days and specific liturgical dates, the Commons, which cover more general masses in coordination with the Propers, and other sections which lay out masses for any other occasion or intention.
Authoritatively written in Latin under the title Missale Romanum, the Missal is the text required to celebrate any mass, and is therefore of profound importance in the life of the Catholic Church.
The Logos editions of the Missals provide all Scripture references on mouse-over, and access from there directly to all your other Logos resources. Logos also makes navigating lengthy, multi-volume works easier than ever—topics and Scripture references can be searched instantly with the click of a mouse. Elegantly paired with the Logos Lectionary, the Missals enable deep and critical reflection on the readings and prayers that make up the celebration of what the Second Vatican Council called "the source and summit of the Christian life": the Eucharist.
Key Features
Allows comparison between the English translation and the Authoritative Latin
Completely searchable by date, topic, or keyword
Links to the Catholic Lectionary and Catechism of the Catholic Church
Product Details
Title: Missals of the Roman Catholic Church
Volumes: 3
Pages: 3,916
In 1570, Pope Pius V declared an edition of the Missale Romanum obligatory throughout the Latin Church. This Missal underwent only minor changes until 1962, and is still a licit edition today. This title includes the 1962 Lectionary.

Missale Romanum, edito typica tertia (Latin)
Publisher: Libreria Editrice Vaticana
Publication Date: 2008
Pages: 1,314
Following the Second Vatican Council, the Missale Romanum editio typica was produced and promulgated under Pope Paul VI. Two minor revisions later, Pope John Paul II approved the Missale Romanum, editio typica tertia, which appeared in 2002. This is the most recent version of the Missale Romanum and is the basis for the new translation of the Roman Missal, Third Edition.

Roman Missal, Third Edition (English)
Publisher: ICEL
Publication Date: 2011
Pages: 1,514
This translation is the only sanctioned English edition, as the 1962 version is available in Latin only. This is what most English-speaking Catholics will know as the New Roman Missal, introduced in the liturgy on the First Sunday of Advent 2011.
More details about these resources