Training for Service: A Basic Bible Overview for Every Christian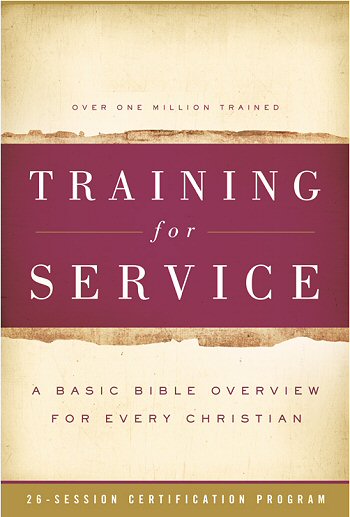 Training for Service: A Basic Bible Overview for Every Christian
•
Runs on Windows, Mac and mobile.
Overview
For over 100 years Training for Service: A Basic Bible Overview for Every Christian has equipped more than one million volunteers with this basic course and certification for Bible teaching. Ideal for those planning to teach Sunday school or facilitate small groups, it is also recommended for anyone who just wants a Bible 101 course. It can be completed with a group or as a self-study. Training for Service is divided into five units that provide a better understanding of the Bible and its message:
The Bible: its origins, translations, divisions, and contents
Old Testament Geography and History: the people, places, and events in the first 39 books of the Bible
Old Testament Institutions: the elements of Jewish worship designed to point to the coming fulfillment of God's plan in Jesus
The Christ: the account of the ultimate revelation: God in the flesh
The Church: the mission given to the first followers of Jesus, which we are called to continue until our Savior returns
Christian educators have continued to keep Training for Service relevant for new generations of Bible students. This latest revision is updated with the best available Bible information and educational methodology and remains true to the heritage of this ever-popular study. It includes both the student book and leader guide.
Logos Bible Software dramatically improves the value of any resource by enabling you to find what you are looking for instantly and with unbelievable precision. As you are reading Training for Service: A Basic Bible Overview for Every Christian, you can easily search and access topics or Scripture references you come across, for example, "Great Commission" or "Isaiah 29:17–19."
Key Features
26 sessions that survey the Bible

Questions at the end of each lesson
Bible-word pronunciation guide
Maps, charts, and diagrams

Complete step-by-step lesson plans with reproducible worksheets and exams
Reproducible course-completion certificate
Access to additional resources at www.trainingforservice.com
Product Details
Title: Training for Service: A Basic Bible Overview for Every Christian
Author: Jim Eichenberger
Editor: Lynn Lusby Pratt
Edition: 7th
Publisher: Standard Publishing
Publication Date: 2011
Pages: 142
Contents
How to Use This Book
The Bible

How We Got Our Bible
God's Word to Us
Divisions of the Bible
Books of the Old Testament
Books of the New Testament

Old Testament Geography and History

3 Dispensations
The Old Testament World
Old Testament People—Part 1
Old Testament People—Part 2
Old Testament Periods—Part 1
Old Testament Periods—Part 2
Old Testament Periods—Part 3

Old Testament Institutions

Altar and Tabernacle
Temple and Synagogue
The Jewish Feasts

The Christ

New Testament Lands
The Christ in Prophecy
Life of Christ—Part 1
Life of Christ—Part 2
Life of Christ—Part 3

The Church

The Apostles and the Great Commission
Beginnings of the Church
New Life in Christ
Life of Paul—Part 1
Life of Paul—Part 2
The Bible for the Whole World

Pronunciation Guide
Bibliography
Leader Guide

Lesson Plans for Lessons 1–26
Reproducible Worksheets
Exam 1 (Lessons 1–13)
Exam 2 (Lessons 14–26)
Final Exam
Answers for Exams
Reproducible Certificate
About Jim Eichenberger
Jim Eichenberger is a former schoolteacher and principal. He is currently a writer and editor at Standard Publishing and authored this revision of Training for Service.
Sample Pages from the Print Edition
More details about these resources