Concordia Electronic Theological Library: Collection 9 (6 vols.)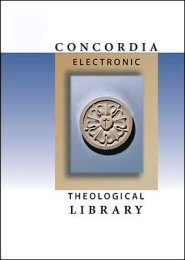 Concordia Electronic Theological Library: Collection 9 (6 vols.)
•
Runs on Windows, Mac and mobile.
Overview
This volume discusses Lutheran christology and Scripture, Law and Gospel, the Word and Sacraments, church ceremonies, pastoral conduct, theological foundations for congregation and laity involvement in church and ministry, the Eucharist, and Lutheran schooling.
Key Features
Bibliographical references
Indexes and end notes are included in Ministry, Word, and Sacraments
Ten theses on Church and Ministry by C. F. W. Walther
Individual Titles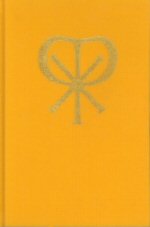 Two Natures in Christ
Author: Martin Chemnitz
Translator: J. A. O. Preus
Publication Date: 1971
Pages: 534
This is a translation of Chemnitz's De Duabus Naturis in Christo, written in 1578. This book concerns the two natures of Christ (the divine and the human), their hypostatic union and the communication of their attributes and related questions. It shows that the Christology of the Lutheran reformers is that of Scripture, the ancient church fathers, and the creeds.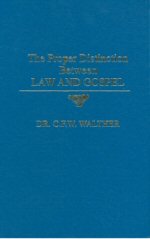 The Proper Distinction Between Law and Gospel
Author: C. F. W. Walther
Translator: W. H. T. Dau
Publication Date: 1929
Pages: 424
This book is made up of Walther's Friday evening "Luther Hour" lectures at Concordia Seminary in St. Louis from September 1864 to November 1885. Most feel that this is his greatest contribution to the church.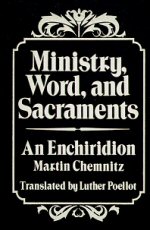 Ministry, Word, and Sacraments
Author: Martin Chemnitz
Translator: Luther Poellot
Publication Date: 1981
Pages: 165
This is a translation of Chemnitz's "little book" for pastors. It discusses the Word and Sacraments, ceremonies of the church, and conduct of ministers.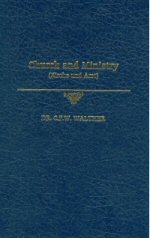 Church and Ministry
Author: C. F. W. Walther
Translator: J. T. Mueller
Publication Date: 1987
Pages: 363
This resource is a translation of Walther's famous treatise on church and ministry which explains the theological foundation for congregation and pastoral office. Walther offers ten theses, supported from Scripture, the church's confessions, and patristic and confessional writers.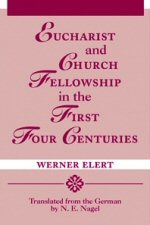 Eucharist and Church Fellowship in the First Four Centuries
Author: Werner Elert
Translator: N. E. Nagel
Publication Date: 1966
Pages: 231
This book examines the nature of church fellowship in the early history of the church. It explores the vocabulary of fellowship in the Christian community and the evidence from agreement in the confession of the faith and church practice in the Lord's Supper.
An Introduction to the Foundations of Lutheran Education
Author: William C. Rietschel
Publication Date: 2000
This text describes the distinctive Lutheran aspects of parochial education. It explores the historical context of Lutheran education by examining the events and ideas that have contributed to the development of formal educational endeavors within the LCMS.
Product Details
Title: Concordia Electronic Theological Library: Collection 9
Publisher: Concordia
Volumes: 6
More details about these resources