Classic Commentaries and Studies on the Books of Samuel (11 vols.)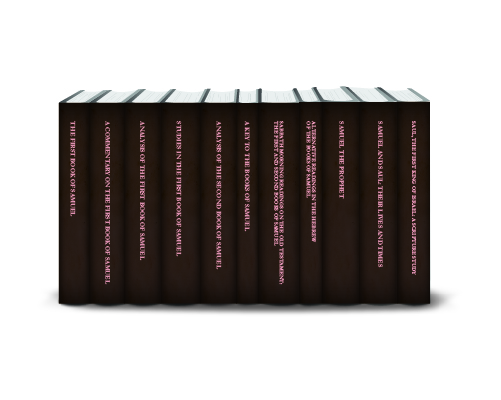 Classic Commentaries and Studies on the Books of Samuel (11 vols.)
•
Runs on Windows, Mac and mobile.
Overview
The Classic Commentaries and Studies on the Books of Samuel (11 vols.) offers some of the most significant classical studies on the books of Samuel from the nineteenth and twentieth centuries. With notable authors such as W. O. E. Oesterley, Loring W. Batten T. Boston Johnstone, and John Cumming, Classic Commentaries and Studies on the Books of Samuel (11 vols.) contains over 2,000 pages of interpretation, observations, translations, contextual history, and practical application. The twelve volumes contained in the Classic Commentaries and Studies on the Books of Samuel (11 vols.) have had an enduring impact on Old Testament exegesis, and this exceptional collection provides easy access to this wealth of significant scholarship.
This collection is essential for students, scholars, pastors, historians, teachers of the Bible, or anyone studying the books of Samuel. With Logos Bible Software, this collection is completely searchable, with passages of Scripture appearing on mouse-over, as well as being linked to the Greek and Latin texts and English translations in your library. This makes these texts more powerful and easier to access than ever before for scholarly work or personal Bible study. With the advanced search features of Logos Bible Software, you can perform powerful searches by topic or Scripture reference—finding, for example, every mention of "Israel" or "1 Samuel 12:1."
Key Features
Over 2,000 pages of notable scholarship on the Book of Samuel
Noted authors from a variety of backgrounds
Completely searchable, linked to your preferred Bible translation and the other books in your library
Individual Titles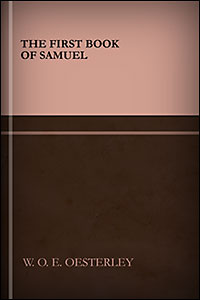 Concisely examining the authorship, composition, canonization, and original text of First Samuel, W. O. E. Oesterly provides thorough exposition of the text. Systematically conveying the spiritual and moral state of Israel in the text, Oesterley utilizes the Septuagint, Peshitta, Latin Vulgate, and Biblia Hebraica Stuttgartensia for semantic and philological comparison. The author provides extensive notes for critical explanation and analysis of key topics.
W. O. E. Oesterley (1866–1950) was educated at Brighton College, Jesus College, and West Theological College. Oesterley went on to become Professor of Hebrew and Old Testament Studies at King's College, London. He is the author of many titles including: The Wisdom of Jesus the Son of Sirach or Ecclesiasticus, The Epistle to Philemon, and The Doctrine of the Last Things: Jewish and Christian.
Product Details
Title: Classic Commentaries and Studies on the Books of Samuel (11 vols.)
Volumes: 11
Pages: 2,638