Bob Jones University Press Preaching Collection (2 vols.)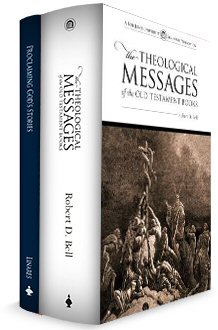 Bob Jones University Press Preaching Collection (2 vols.)
•
Runs on Windows, Mac and mobile.
Overview
The Bob Jones University Press Preaching Collection provides pastors with two volumes on sermon preparation. This collection includes The Theological Messages of the Old Testament, a volume on understanding and preaching on Old Testament books. In it, author Robert D. Bell outlines ways to deliver contemporarily relevant messages on each Old Testament book and draws application from these ancient texts to modern-day situations. The second volume, Proclaiming God's Stories, walks pastors through the process of researching and preaching a biblical narrative, illustrating the significance, application, and sermon potential of the Old Testament's historical narratives.
This collection is perfect for the pastor wanting a deeper understanding of the valuable lessons found in each Old Testament book, as well as in biblical narratives. With the Logos Bible Software edition, all Scripture passages in the Bob Jones University Press Preaching Collection are tagged to original language texts and English translations. This makes these resources more powerful and easier to access than ever before for scholarly work or personal Bible study. With the advanced search features of Logos Bible Software, you can perform powerful searches by topic or Scripture reference—finding, for example, everything said about a particular passage of Scripture.
Key Features
Two volumes on preaching from the Old Testament
Helpful tools for preparing a sermon
Includes a bibliography, author index, and appendixes
Individual Titles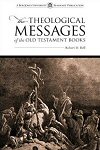 God says that all Scripture is "profitable for doctrine, for reproof, for correction, for instruction in righteousness." But preaching from, teaching through, and even studying weighty books such as Leviticus or 1 Chronicles can discourage both disciples and expositors. How can modern Christians be true to each book's message and still make relevant application to their own lives?
This book suggests strategies for understanding and preaching every book of the Old Testament. Following the method for biblical theology outlined in his introduction, it bases each study firmly on the actual text rather than on imposed theological categories. Pastors will discover how to preach a sermon covering an entire Old Testament book or how to develop a series of sermons proclaiming that book's themes. Also included are charts presenting data for each Old Testament book, as well as sample sermons on books and themes. Each chapter concludes with guidelines for applying its content to modern situations, making this book valuable for pastors, teachers, and students.
Robert D. Bell is Chair of the Division of Graduate Studies and the coordinator of curriculum and faculty development at Bob Jones University Seminary and Graduate School of Religion.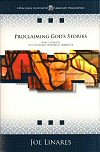 From Genesis and Exodus through Job, Jonah, and Daniel, the Old Testament contains major portions of historical narrative. Developing a sermon from these lengthy, sometimes complicated stories can be daunting. A preacher may be tempted to simplify the story to three abstract points or use it as a springboard for a more appealing topic. Proclaiming God's Stories is designed to give you confidence in preaching Old Testament narratives. Joe Linares shows the significance, structure, and sermon potential of the Bible's historical narrative sections.
Linares outlines the literary elements of Scripture and their role in handling narrative passages properly. He gives practical advice for preserving the arc of a narrative and describes how to incorporate the point of view in homiletics; how to transpose the plot into the sermon; and how to handle characters, setting, and dialogue. Four models of sermonic structure—inductive-deductive, conflict-resolution, inductive-narrative, and propositional—provide a framework for preaching narratives with confidence.
In applying the prepositional method to Genesis 3, Linares demonstrates how to separate the narrative into scenes, identify the characters, and plumb the depths of the passage through careful analysis of the action and dialogue. The resulting sermon, rich with high-interest exposition and heart-probing application, demonstrates the eternal value of preaching Old Testament narrative.
Joe Linares is the pastor of Fellowship Baptist Church in West Berlin, New Jersey, and an adjunct professor at Bob Jones University Seminary.
Product Details
Title: Bob Jones University Press Preaching Collection
Publisher: BJU Press
Volumes: 2
Pages: 708
More details about these resources