Systematic Theology, vol. 4: The Church and the Last Things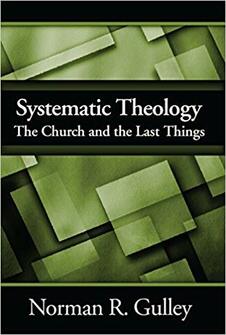 Systematic Theology, vol. 4: The Church and the Last Things
•
Runs on Windows, Mac and mobile.
Your Custom Discount
Reg. Price $59.99
Sale Price $38.99
Your Price $38.99
You Save $21.00 35%
Your Price
What's Pre-Pub?
$38.99
Overview
Who are we and where are we going?
What is a Christian Church? How will the church survive? How will Jesus return? How will the Cosmic Conflict end? These questions and more are ardently probed in light of scriptural revelation in this fourth and final volume of Norman Gulley's Systematic Theology. Here he culminates this work of a lifetime by examining the doctrines of ecclesiology and eschatology within the theological framework of the cosmic controversy between Christ and Satan.
This volume examines controversial questions about God's church: Who is its Head? Who is its Vicar? How does it receive God's grace? Who has ultimate authority? Gulley both examines and critiques some of the traditional answers by his interpretive framework of Scripture enunciated in his system. The Reformation is not finished, and there is thus a need for increasing clarity.
The Bible refers to a coming tribulation, and this work examines how it can be understood and survived. The books of Daniel and Revelation play a pivotal role here, as Gulley surveys and critically examines various approaches to prophetic eschatology that have been held throughout Christian history—preterism, futurism, historicism, and idealism—including their related views regarding the return of Christ. He builds his eschatological outlook on a historicist approach, with biblical prophecy fulfilled throughout Christian history, as well as in the present and the future. The foundational principle employed is that which Gulley began in his Prolegomena—sola scriptura. This final volume of the immense and wide-ranging Systematic Theology thus culminates where the first began with the primacy of Scripture in the cosmic conflict worldview. And it fittingly climaxes with the final resolution of that conflict—the Second Coming of Christ and the final judgment.
In the Logos edition, this volume is enhanced by amazing functionality. Important terms link to dictionaries, encyclopedias, and a wealth of other resources in your digital library. Perform powerful searches to find exactly what you're looking for. Take the discussion with you using tablet and mobile apps. With Logos Bible Software, the most efficient and comprehensive research tools are in one place, so you get the most out of your study.
Key Features
Explores four different views of the church, concentrating on their foundational nature
Surveys the various eschatological views
Examines the differences within the context of the cosmic controversy of Satan against Christ
Contents
Section Introduction: The Church
Daniel and Revelation: Contribution to Ecclesiology and Eschatology
Doctrine of Ecclesiology: Protestant, Catholic, and Orthodox
Apostolic Church: Nature and Mission
Apostolic Church: Holy Spirit as Vicar of God
Roman Church: Further Background
Roman Church: Apostolic Succession
Roman Church and Paganism
Roman Church: Replacement Theology
Roman Church: Replacement Theology, Sabbath Debate 1
Roman Church: Replacement Theology, Sabbath Debate 2
Roman Church: Replacement Theology and the Rise of Sunday
Reformation Unfinished: What Is Missing?
Reformation Unfinished: Church Ordinances
Reformation Unfinished: Church and State
Finishing the Reformation: Toward a Theology of the Remnant
Section Introduction: The Last Things
Eschatology: Importance of Sola Scriptura
Eschatology: Apostolic Teaching 1
Eschatology: Apostolic Teaching 2
Eschatology: Apostolic Teaching 3
Eschatology: Global Gathering
Eschatology: Global Test, Left-Behind, and Armageddon
Eschatology: Second Advent
Eschatology: Millennium
Eschatology: New Earth
Praise for the Print Edition
I am honored to endorse this final volume of Norman Gulley's Systematic Theology. As in his earlier three volumes, this work on the doctrines of the church and final events reveals Dr. Gulley's carefulness of research and clarity of thought. Though I differ with him in a number of places in the volume, I never felt that he simply created theological straw men or ignored positions other than his own.
—H. Wayne House, Past President, Evangelical Theological Society
With the completion of the fourth volume of his massive systematic theology project, Norman Gulley has solidified his place as the premier Adventist theologian of our day. Like the previous volumes, this work reflects the many commendable characteristics we have come to expect from Professor Gulley. This volume, which clearly and thoroughly articulates the doctrines of ecclesiology and eschatology from an intentional Adventist perspective, is thoughtful in its approach, balanced in its engagement with others, wide-ranging in its research and interaction, and clearly presented. One need not agree with all aspects of Gulley's approach to appreciate, admire, and learn from his careful, competent, and capable work as a theologian.
—David S. Dockery, President, Trinity International University
Monumental is the word that comes to mind when viewing Norman Gulley's four-volume Systematic Theology, the first such work by an Adventist scholar. This final volume's treatment of the doctrines of the church and final events is both perceptive and thorough. We are indebted to Dr. Gulley for a book that puts the biblical and historical pieces together to form a vivid mosaic of these two closely related topics. Gulley's massive contribution will form a starting place for research and discussion for years to come.
—George R. Knight, Professor Emeritus of Church History, Seventh-day Adventist Theological Seminary, Andrews University
About Norman R. Gulley
Norman R. Gulley is Research Professor of Systematic Theology at Southern Adventist University in Tennessee and holds a Ph.D. degree in systematic theology from The University of Edinburgh, Scotland. He has taught in the Far East (Japan and Philippines) at the collegiate and graduate seminary levels respectively, and in the United States during a long career of pastoring, teaching, academic administration, professional society involvement, writing, and extensive worldwide travel as a visiting lecturer. He has authored fifteen books, contributed chapters to many others, frequently presented papers at professional societies, and authored numerous professional and popular articles in journals and magazines.
Sample Pages from the Print Edition