New Testament: Advanced Background and Context Studies Certificate Program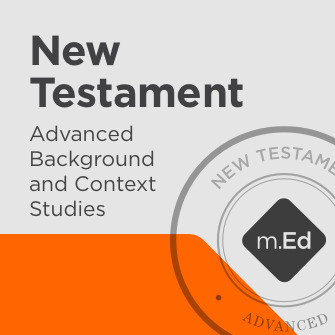 New Testament: Advanced Background and Context Studies Certificate Program
•
Runs on Windows, Mac and mobile.
Overview
In the New Testament: Advanced Background and Context Studies Certificate Program you'll study cultural background of first-century Israel. You will explore biblical archaeology in the field and see how it sheds light on the world of Jesus. You'll learn about important Jewish writings from the Second Temple Period and see how they influenced the thought of the New Testament writers. You will discover the relevance of concepts like hospitality, family, purity, patronage, honor, and shame in the cultural world of the New Testament. These courses provide important insight into the culture of the New Testament.
How to Apply for a Mobile Ed Certificate of Completion
Complete all Mobile Ed courses in this certificate program. This involves viewing all videos and taking all quizzes.
Write a 750-word response on any topic covered for each course in the certificate program. Post your response to the appropriate Faithlife group in the comments section. Search course code here to find group.
Email certificate@faithlife.com once you have completed all videos and quizzes and have posted responses in the appropriate Faithlife group for each Mobile Ed course in the certificate program. Please include your full name, title of completed certificate program, and links for each Faithlife group post in your email.
Our certificate program team will review the application and email the Certificate of Completion once you have completed all requirements. Please allow 7–10 business days for review.
Product Details
Title: New Testament: Advanced Background and Context Studies Certificate Program
Publisher: Lexham Press
Product Type: Logos Mobile Education
Resource Type: Courseware, including transcripts, audio, and video resources
Courses: 13
Video Hours: 34