Biblia Hebraica Stuttgartensia: SESB 2.0 Version with Apparatus and WIVU Introduction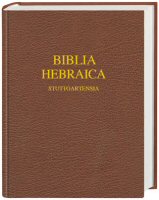 Biblia Hebraica Stuttgartensia: SESB 2.0 Version with Apparatus and WIVU Introduction
•
Runs on Windows, Mac and mobile.
Overview
The Biblia Hebraica Stuttgartensia is a revision of Rudolf Kittel's Biblia Hebraica, based upon the Leningrad Codex B19A, the oldest dated manuscript of the complete Hebrew Bible. Also included is the Biblia Hebraica Stuttgartensia Apparatus Criticus and the WIVU Introduction. This Stuttgart Electronic Study Edition of the BHS is based upon the morpho-syntactic database of Prof. Eep Talstra and the Free University, Amsterdam.
Key Features
Special lemma search helps you find all inflected forms of a word by simply entering the infinitive
Any word offers an English translation and a morphological analysis
Search with linguistic databases
Praise for the Print Edition
It really is a pleasure to look up and search in ways never thought possible before these great electronic resources. I must confess that the 'wow' factor remains high even after roughly three months of use.
—Rubén Gómez, Bible Software Review
Product Details
Title: Biblia Hebraica Stuttgartensia: SESB 2.0 Version with Apparatus and WIVU Introduction
Edition: 5th Corrected
Publisher: Deutsche Bibelgesellschaft
Publication Date: 1977
More details about these resources