The Works of Zwingli (7 vols.)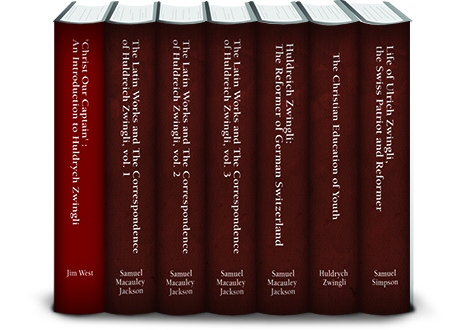 Overview
"This is the gospel, that sins are remitted in the name of Christ; and no heart ever received tidings more glad." Huldrych Zwingli's contribution to the Reformation may have been just as important as Luther and Calvin's, yet many still don't know much about him, let alone read his powerful works. Zwingli preached against ecclesial corruption, fasting, the requirement of celibacy on the clergy, the veneration of saints, excommunication, and more—setting the stage for the Swiss Reformation. The Works of Zwingli (7 vols.) assembles some of Zwingli's most important works translated into English and includes historical works about his life and legacy.
Included in this important collection are "A Short and Clear Exposition of the Christian Faith," "Commentary on the True and False Religion," "The Fable of the Ox," and many more works that solidified Zwingli's place in history as one of the Reformation's most influential voices. Samuel Jackson and Samuel Simpson's biographies of Zwingli help place Zwingli in the proper theological and political context. And Jim West's 'Christ Our Captain': An Introduction to Huldrych Zwingli provides original translations—the first time some of these have appeared in English—of excerpts from Zwingli's works on topics such as prayer, Christ, salvation, heaven, and more, along with commentary that illuminates the power and piety of Zwingli's work.
With the Logos edition of the Works of Zwingli (7 vols.), you can instantly access important information about dozens of prominent individuals and historical Christian events that have influenced—and continue to influence—the church. The advanced search tools in Logos Bible Software give you instant access to the subjects, topics, and individuals you're looking for. All Scripture references are also linked directly to the Bibles in your library, making God's Word instantly accessible.
Key Features
Key works from Huldrych Zwingli
Introduction to Zwingli and new English works translated by Jim West
Completely searchable and linked to your preferred Bible translation and other books in your library
Product Details
Title: The Works of Zwingli (7 vols.)
Volumes: 7
Pages: 1,988
About Huldrych Zwingli
Huldrych Zwingli (1484–1531) was a notable Swiss leader of the Reformation. Born to a family of farmers in Wildhaus, Switzerland, Zwingli was educated at the University of Basel, where he earned a Master of Arts degree. Ordained in 1506, his first ecclesiastical post was in the town of Glarus where he stayed for ten years and got involved with politics during a turbulent time in Swiss history. He then took a position in the town of Einsiedeln, where he also furthered his study of Greek and Hebrew, as well as the works of Erasmus. Because of his reputation as a gifted preacher and writer, he was elected the stipendiary priest of Zurich.
Zwingli's theology matured during this period, and it began to show in his powerful sermons. He preached against ecclesial corruption, fasting, the requirement of celibacy on the clergy, the veneration of saints, excommunication, and more. In 1522, Zwingli published a sermon against fasting, "Von Erkiesen und Freiheit der Speisen" (Regarding the Choice and Freedom of Foods), which is considered by some historians to be the first act of the Swiss Reformation.
In 1529, the famous dispute over the interpretation of the Eucharist divided Martin Luther and Zwingli during the Marburg Colloquy, which resulted in two Protestant confessions. The Lutherans presented Charles V with the Augsburg confession, while Zwingli produced his own, "Fidei ratio" (Account of Faith). As the Reformation grew across Switzerland and other nearby countries, cantons (states) were split between those supporting Rome and those supporting the Reformation. On October 9, 1531, the city of Zurich was caught off guard by a declaration of war by an alliance of neighboring cantons known as the Five States (Lucerne, Uri, Schwyz, Unterwalden, and Zug). On October 11, Zwingli was among the 500 soldiers that died on the battlefield.