iFollow Series (12 vols.)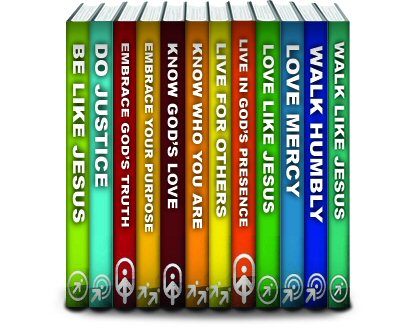 Overview
The iFollow Series (12 vols.) is a powerful and relevant Bible study tool written by youth ministers for youth ministry. Each study book is designed to cover four weeks of study in small or large group settings, progressing through key issues in Scripture that every believer needs to grasp as a follower of Jesus. It includes:
Key passages for each study
Thoughts to ponder and write down
Questions relating to the subject of study
The reality is, teens don't decide if they will follow—we all must follow something. But we can decide whom to follow. The world wants us to follow its way of thinking and its ideals. But following Jesus is why we were created, and it's the only way that lasts. The iFollow series gives students the tools they need to follow Jesus deeper and beyond.
Logos Bible Software dramatically improves the value of any resource by enabling you to find what you are looking for instantly and with unbelievable precision. As you are reading the iFollow Series (12 vols.), you can easily search and access topics or Scripture references you come across—for example, "faith" or "mercy."
Key Features
Explore key Scripture passages and discover biblical truth
Reflect on your personal feelings and experiences
Discover God's direction in your life
Praise for the Print Edition
Our teens loved going through the iFollow series. Before we could even ask, they were asking for the next book. It opened up great discussions for us about our relationship with the Father.
—Rebecca Rio, Avon Wesleyan Church, Avon, NY
Individual Titles

From the Introduction:
The question of what to do with your life is one of the biggest decisions you will face. It starts to nag most people during their teenage years. They begin to ask questions like:
Should I go to college?
What college should I go to?
What kind of career do I want?
What do I even like to do?
What do I want to do with my life?
Trying to figure out what to do in life can be extremely frustrating. But beyond what you will do, is the deeper issue of deciding who you want to be when you grow up.
Being is and will always be more important than doing. As you become more like Christ, you will have more opportunities to do great things in your life. Jesus modeled how life was meant to be lived. He lived counterculture to the ways of the world. To be like Christ is to find peace in being His follower rather than seeking peace in your own way.

From the Introduction:
We are called to act justly because God is just. God defines justice in a way that transcends all human concepts of what is just. Acting justly is a key part of being a follower of Christ. God's plan to heal the world involves us; we are to live a life that seeks out ways of justice. It is a practical virtue, not merely something to admire from afar. It must be demonstrated in action: in the way we behave, the way we live, and the space we give to strangers as well as to our friends. The world is waiting to see what God's people can do. Will you show it?

From the Introduction:
Genuine truth is accurate, flawless, and perfect in every detail. God is truth, and this book will show you His ultimate authority, and that His way is not just the best way, but the only way to truth for your life. You will learn how the Trinity, God in three persons, expresses His truth to us intimately. And you will discover how it all works together as it is lived out in the body of Christ.

Embrace Your Purpose
Publisher: Wesleyan Publishing House
Publication Date: 2010
Pages: 48
Have you wondered what your purpose in life is? Have you wondered what God's purpose is for your life? Embrace Your Purpose encourages you to look at your life in reference to building up the kingdom of God and challenges you to listen and respond to His calling—especially when you don't want to.

From the Introduction:
In 2001, an elderly couple living in Cheltenham, England, decided to sell an old painting that had been hanging on a wall in their house for decades. They figured it was worth a few hundred dollars, so they wrapped it in a blanket and took it to Christie's auction house. The painting turned out to be a masterpiece by seventeen-century French artist Nicolas Poussin. Sale price at the auction was six hundred thousand dollars.
How could someone have something so great for so long and not know of its true value? Maybe you've heard a lot about God's love but haven't truly experienced it. In this book, you will discover the power of God's redemption, the splendor of His creation, the covenant that binds us together, and the commitment of the Father to you that only comes in the form of unconditional love.
Just as the lives of this elderly couple were changed forever, God's love and the value it brings to your life will change you forever. Don't wait decades to discover His great love for you. After all, you are not promised even tomorrow. Know God's love beyond the stories you have heard. Experience Him in your life today.

Know Who You Are
Publisher: Wesleyan Publishing House
Publication Date: 2010
Pages: 48
This volume challenges you to discover who you are and who God is calling you to be.

Live for Others
Publisher: Wesleyan Publishing House
Publication Date: 2010
Pages: 48
In this selfish world, it's easy to live life with a "me" attitude. But is that what God calls us to do? This volume encourages you to live in obedience to God and display his loving-kindness to those around us.

From the Introduction:
Although the human heart weighs less than a pound, it is the most vital organ of the body. A bone called the sternum guards our heart. Without this bone, our hearts would be vulnerable to puncture and damage.
The heart is the wellspring of our physical life. God knew this vital organ needed protection because it provides life-giving blood flow to the rest of the body. It has to be protected and guarded to give life. He uses our hearts as an illustration to our spiritual lives too. If we contaminate the heart with sin, it will feed the rest of the body sin, which will lead to death.
In the same way, living in God's presence is life-giving. This book will share God's story—His relentless love for you seen in the ultimate sacrifice of his son Jesus and the work of the Holy Spirit in your life.

From the Introduction:
Try to imagine a list of all the songs and poems ever written about love; the list would be endless. It seems every generation has a fascination, need, and desire for love. All around us, people are desperately searching for love, true love.
Christians are called to love the way Jesus loved. Jesus said that the greatest commandment in the Law is to love God and love others. Let's give the people what they're searching for: true love.

From the Introduction:
We are called to love mercy because God is merciful. Because of His great love, we receive His great mercy. God is compassionate; God's people must be compassionate. If you follow God, your life will be filled with the compassion of God.
The sheer volume of information about tragedy in the world can lead to compassion fatigue. It is easily to get lost in the wave of the spiritual and physical needs of hurting people. Many today think they can't possibly make a difference in the face of such injustice around the world. You may not be able to change everything, but, as Mother Teresa once said, "We cannot do great things on this Earth, only small things with great love."
From the Introduction:
We are called to walk humbly with God because He is holy. To walk in humility with God is to acknowledge the great incommensurability between creator and creature. God is holy, and His people are called to be holy, pure, and undefiled. Walking indicates there is a movement with him. This study will challenge you to walk with God—reminding you that he is bigger, greater, and stronger. It is through your walk with God that you will find strength to live justly with mercy and love.

From the Introduction:
Do your words match your actions? Think about it. What would your friends say if they were asked to describe you? Would the word Christlike come to mind? It's one thing to read about Jesus, but if we truly believe, then it will show up in our actions—how we respond and react toward others. In a world full of broken promises and shallow words, our walk is a great testimony and a natural response to the work Christ is doing in our lives. If you are having difficulties with your walk, don't try harder; allow Christ to do a beautiful work in you that will naturally be expressed in your daily life.
Product Details
Title: iFollow Series
Publisher: Wesleyan Publishing House
Volumes: 12
Pages: 576
More details about these resources
Show More