Karl Barth Collection (55 vols.)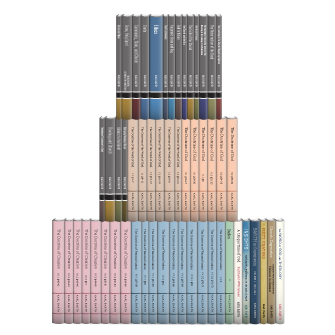 Overview
Introducing Credo, Robert McAffee Brown notes that "the reader has the privilege of disagreeing with Barth. He no longer has the privilege of ignoring him."
Perhaps the twentieth century's most influential theologian, Karl Barth cannot be overlooked. This collection will prove an invaluable resource for scholars examining his theological development and the perfect access point for newcomers to Barth. Examine 18 of Barth's shorter works on an array of subjects—from the church in wartime, to ethics, to Mozart. These shorter works offer compelling new insights for Barth enthusiasts as well as a springboard for studying the formidable Church Dogmatics, also included in this collection.
Church Dogmatics, Barth's monumental life-work that consists of more than 6 million words, was written over the span of 35 years. In it, Barth covers in depth the great doctrines of the Word of God, God, Creation and Reconciliation. He made it his task "to take all that has been said before and to think it through once more and freshly to articulate it anew as a theology of the grace of God in Jesus Christ." Two characteristics that define Barth's theology are his emphasis on the person of Christ (Barth "works from Christ outward") and his insistence that ethics and theology cannot be separated. Barth taught that "theology is ethics," since knowing God entails doing his will.
Barth's theology was shaped by his experience of living and teaching in Germany during the rise of Nazism. By 1934, Barth had become a leader in the Confessing Church movement, which stood in courageous opposition to Nazism at a time when the German Protestant church had largely endorsed National Socialism. This stand cost him his professorship at Bonn University and he was forced to flee the country in 1935.
Barth has been called neo-orthodox, evangelical, and Reformed. Indeed, his views developed remarkably over his lifetime as he moved from a liberal position to one of dialectical theology (theology founded on paradoxes or tensions). Later in life, Barth abandoned the views of Friedrich Schleiermacher, Rudolf Bultmann, and the liberal tradition. He argued that God was not made in man's image but is instead "Wholly Other."
Barth is probably best described as "ecumenical" since his work is read by Protestants and Roman Catholics, mainstream and evangelicals. Indeed, Barth was described by Pope Pius XII as the most important theologian since Thomas Aquinas, and his work continues to be a major influence on students, scholars and preachers today.
In the Logos editions, these volumes are enhanced by amazing functionality. Important terms link to dictionaries, encyclopedias, and a wealth of other resources in your digital library. Perform powerful searches to find exactly what you're looking for. Take the discussion with you using tablet and mobile apps. With Logos Bible Software, the most efficient and comprehensive research tools are in one place, so you get the most out of your study.
Key Features
Provides one the most comprehensive libraries of Barth's work ever created
Offers lesser known works as well as Barth's timeless Church Dogmatics
Praise for the Print Edition
[Barth] undoubtedly is one of the giants in the history of theology.
—Christianity Today
Product Details
Title: Karl Barth Collection
Author: Karl Barth
Volumes: 55
Pages: 13,542
Christian Group: Reformed
About Karl Barth
Karl Barth (1886–1968), a Swiss Protestant theologian and pastor, was one of the leading thinkers of twentieth-century theology, described by Pope Pius XII as the most important theologian since Thomas Aquinas. He helped to found the Confessing Church and his thinking formed the theological framework for the Barmen Declaration. He taught in Germany, where he opposed the Nazi regime. In 1935, when he refused to take the oath of allegiance to Adolf Hitler, he was retired from his position at the University of Bonn and deported to Switzerland. There he continued to write and develop his theology.
Barth's work and influence resulted in the formation of what came to be known as neo-orthodoxy. For Barth, modern theology, with its assent to science, immanent philosophy, and general culture and with its stress on feeling, was marked by indifference to the word of God and to the revelation of God in Jesus, which he thought should be the central concern of theology.