Basics of Biblical Greek Grammar, 4th Edition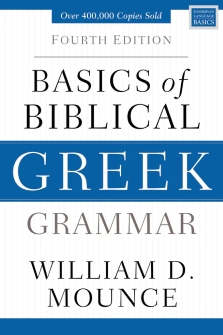 Basics of Biblical Greek Grammar, 4th Edition
•
Runs on Windows, Mac and mobile.
Your Custom Discount
Reg. Price $47.99
Sale Price $38.99
Your Price $38.99
You Save $9.00 18%
Your Price
What's Pre-Pub?
$38.99
Overview
Basics of Biblical Greek Grammar is the standard textbook for beginning Greek language students in colleges and seminaries. It offers a clear, understandable, integrated approach to learning New Testament Greek. The fourth edition is updated throughout based on feedback from professors and students to make it even more useful.
The fourth edition of Basics of Biblical Greek Grammar has been updated throughout based on continuing feedback from professors, students, self-learners, and homeschoolers, making it even more effective for today's students. As well, improvements have been made based on recent developments in scholarship.
The key to the effectiveness of Basics of Biblical Greek Grammar in helping students learn is in how it introduces them to the language. Students learn about the features of the Greek language in a logical order, with each lesson building upon the one before it. Unnecessary obstacles that discourage students and hinder progress are removed, such as rote memorization of endless verbal paradigms. Instead students receive encouragement along the way to assure them they are making the necessary progress. As well, detailed discussions are included at key junctures to help students grasp important concepts.
In the Logos edition, this volume is enhanced by a world-class set of research and study tools. Important terms link to dictionaries, encyclopedias, and a wealth of other resources in your digital library. Perform powerful searches to find exactly what you're looking for. Take the discussion with you using tablet and mobile apps. With Logos Bible Software, the most efficient and comprehensive research tools are in one place, so you get the most out of your study.
Key Features
Includes clear and understandable grammatical discussions
Teaches vocabulary for words occurring 50 times or more in the Greek New Testament
Builds on the previous editions with feedback from professors and students
Contents
Part I: Introduction Section Overview 1: Chapters 1 – 4

The Greek Language
Learning Greek
The Alphabet and Pronunciation
Punctuation and Syllabification

Part II: Noun System Section Overview 2: Chapters 5 – 9

Introduction to English Nouns
Nominative and Accusative; Article
Genitive and Dative
Prepositions and εἰμί
Adjectives
Track One or Track Two?
Section Overview 3: Chapters 10 – 14
Third Declension
First and Second Person Personal Pronouns
αὐτός
Demonstrative Pronouns/Adjectives
Relative Pronoun

Part III: Indicative Verb System

Section Overview 4: Chapters 15 – 20
Introduction to Verbs
Present Active Indicative
Contract Verbs
Present Middle/Passive Indicative
Future Active and Middle Indicative
Verbal Roots (Patterns 2 – 4)
Section Overview 5: Chapters 21 – 25
Imperfect Indicative
Second Aorist Active and Middle Indicative
First Aorist Active and Middle Indicative
Aorist and Future Passive Indicative
Perfect Indicative

Part IV: Participles Section Overview 6: Chapters 26 – 30

Introduction to Participles
Imperfective (Present) Adverbial Participles
Perfective (Aorist) Adverbial Participles
Adjectival Participles
Combinative (Perfect) Participles and Genitive Absolutes

Part V: Nonindicative Moods and μι Verbs Section Overview 7: Chapters 31 – 36

Subjunctive
Infinitive
Imperative
Indicative of δίδωμι
Nonindicative of δίδωμι and Conditional Sentences
ἵστημι, τίθημι, δείκνυμι and Odds 'n Ends

Postscript: Where Do You Go from Here?
Apostles' Creed
About William D Mounce
William D Mounce (PhD, Aberdeen University) lives as a writer in Spokane, Washington. He is the president of Biblical Training, a non-profit organization offering the finest in evangelical teaching to the world for free. Formerly he was the preaching pastor at a church in Spokane, and prior to that a professor of New Testament and director of the Greek program at Gordon-Conwell Theological Seminary. He served as the New Testament chair of the English Standard Version translation of the Bible.
Sample Pages from the Print Edition