Christian Theology Set (2 vols.)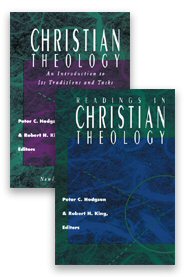 Overview
These previously published introductions provide a remarkably comprehensive Christian theology resource. The Christian Theology Set consists of Hodgson and King's Christian Theology, and the historical anthology, Readings in Christian Theology. This collection contains a rich selection of the most important readings from classical, modern, and contemporary theologians; well-crafted topical essays that compare and contrast major historical contributions to each theological issue; and fresh reconstructions of key theological themes in light of recent intellectual, social, and pedagogical challenges. A Short Guide to Writing Research Papers in Theology and Study Guide for Christian Theology are also included.
Individual Titles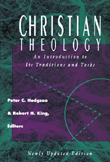 Christian Theology: An Introduction to Its Traditions and Tasks
Editors: Peter C. Hodgson and Robert H. King
Edition: Newly Updated
Publisher: Augsburg Fortress Press
Publication Date: 2002
Pages: 400
This highly acclaimed and widely used volume, now in its third edition, is a collaborative presentation of the chief Christian doctrines in light of their traditional theological formulations, their historical development, and contemporary challenges. Joined by David Tracy, Langdon Gilkey, Edward Farley, Sallie McFague, and many others, Hodgson and King explore the task of theology, method, scripture and traditions, God, revelation, creation, human being, sin and evil, Christ and salvation, church, sacraments, the Spirit and Christian life, the reign of God, other religions, and "the Christian paradigm."
Each chapter sets forth the primary shape and substance of a doctrine, its historical development, "how that tradition has been challenged and transformed under the pressures of modern thought," and new and persistent issues that set the agenda for future theological work.
Written with intelligence and verve, and newly updated, Christian Theology has proven a superlative introduction to Christianity's classical heritage and its future theological horizons.
Rarely does it happen that a dozen or more religionists author a book with so much pizzazz.
—Interpretation
Christian Theology amply covers the classic contents of Christian theology, thus affording the student a sweeping perspective of theological topics.
—Perspectives in Religious Studies
This book offers the best way known . . . to catch a glimpse of the American theological establishment at work.
—Pulpit Digest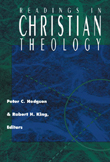 Readings in Christian Theology
Editors: Peter C. Hodgson and Robert H. King
Publisher: Augsburg Fortress Press
Publication Date: 2002
Pages: 432
"From Augustine to Gutierrez, from Creation to Eschatology, this volume:
Provides a rich selection of the most important readings from classical, modern, and contemporary theologians
Covers all the major doctrines of Christian belief
Is carefully edited to provide key passages and concentrated readings
Can be used in conjunction with such introductions as Christian Theology and Reconstructing Christian Theology"
Writers included in Readings in Christian Theology:
Edward Farley, Schubert Ogden, Origen, John Calvin, Johann Adam Möhler, Charles Hodge, Karl Rahner, David Kelsey, Augustine, Martin Luther, Thomas Aquinas, Charles Hartshorne, Karl Barth, Paul Tillich, Matthew Tindal, Rudolf Bultmann, Wolfhart Pannenberg, Benedict de Spinoza, G. W. F. Hegel, Lewis S. Ford, Friedrich Schleiermacher, H. Richard Niebuhr, F. R. Tennant, Soren Kierkegaard, Paul Ricoeur, James Gustafson, Gustavo Gutierrez, Walter Rauschenbusch, Jurgen Moltmann, Rosemary Radford Ruether, John Hick, John B. Cobb, Jr., Gordan D. Kaufman
Very well done. It provides basic material on the central ideas of the Christian faith . . . an excellent format. It is easily read, serves well as a reference, and is—I believe—an important contribution to the library of anyone who is interested in Christian theology.
—Paul M. Edwards, Saints Herald
Product Details
Title: Christian Theology Set
Publisher: Augsburg Fortress Press
Volumes: 2
Pages: 832
About the Editors
Peter C. Hodgson is Charles G. Finney Professor Emeritus of Theology at Vanderbilt Divinity School.
Robert H. King is former Vice-President and Dean of Millsaps College. He is the author of The Meaning of God.
More details about these resources