Zondervan Reference Collection (6 vols.)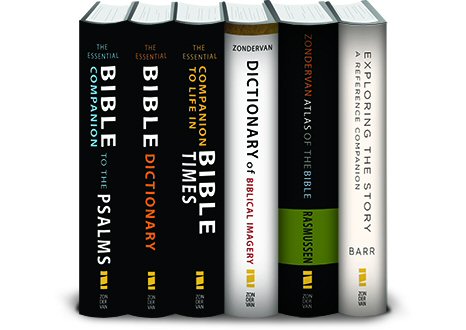 Overview
What was life like socially, politically, and religiously in Bible times? When studying Scripture, it's very important to understand the context that surrounds each text. Whether you are preparing a sermon, leading a small group, or seeking to expand your personal knowledge of the Bible, the Zondervan Reference Collection (6 vols.) is the perfect collection to assist you. This collection includes two dictionaries, an atlas, and a Bible reference companion, as well as two volumes that focus specifically on life in Bible times and the Book of Psalms. Providing numerous maps, photographs, illustrations, descriptions, and charts, it allows you to grow in your understanding of the people, places, and events found in Scripture.
Discover the practical applications found in Psalms. Find out what gender roles, social life, and government were like. Unwrap the significance and meaning of biblical imagery used in the Bible. Experience biblical history in a new, comprehensive light!
Logos gives you the tools you need to put your reference materials to work for you. Perform advanced searches, words studies, and biblical analysis with your digital library, and click your way to the Scripture texts you're studying—in English, or in the original languages. Whether you're preparing for group Bible study, Sunday's sermon, or graduate studies, the Zondervan Reference Collection (6 vols.) gives you one of the most complete set of tools and resources.
Key Features
Hundreds of maps, photographs, illustrations, and charts
Keen insights on life in Bible times
Thorough study on the meaning, significance, and application surrounding biblical imagery and the Book of Psalms
Product Details
Title: Zondervan Reference Collection
Publisher: Zondervan
Volumes: 6
Pages: 1,344
More details about these resources