WallBuilders American Foundations Digital Library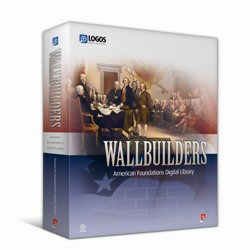 WallBuilders American Foundations Digital Library
•
Runs on Windows, Mac and mobile.
Overview
WallBuilders and Logos have teamed up to bring you the most complete collection of WallBuilders material available anywhere!
Experience the excitement of America's creation from the perspectives of the Founding Fathers; discover the nation's Christian heritage; and equip yourself with the tools needed to bring about a positive change in the United States. With over 60 resources in text, the WallBuilders American Foundations Collection is sure to provide you with a wealth of material as you prepare for your home gatherings, church groups, Sunday school classes, and school curriculum.
Also, available here for the first time anywhere, The Articles of David Barton brings together the significant contribution to the study of history and political science David Barton has made outside of his extensive catalog of books.
Why the Name "WallBuilders"?
In the book of Nehemiah, the nation of Israel rallied together in a grassroots movement to help rebuild the walls of Jerusalem and thus restore stability, safety, and a promising future to that great city. WallBuilders has chosen this historical concept of "rebuilding the walls" to represent allegorically the call for citizen involvement in rebuilding America's foundations. As is written in Psalm 11:3, "If the foundations be destroyed, what shall the righteous do?"
WallBuilders' Goals
Educating the Nation
WallBuilders develops materials to educate the public concerning America's history and the laws and policies set in place by the Founding Fathers. WallBuilders aims to present an uncensored view of American history, thus not only giving meaning to history but also keeping it from becoming what Charles Coffin termed "an incomprehensible enigma."
Providing Information
WallBuilders acts as a resource to those working toward improving federal, state, and local policies. They do this in part by providing direct assistance to our elected and appointed officials. This assistance takes several forms, including consulting with both legislators and judges, at their request, on legal and historical issues; testifying in state and federal hearings; providing research services; identifying and supporting sound legislation; and providing historical perspectives to current problems.
Encouraging Christians
WallBuilders encourages people of faith to become involved in the civic arena, whether through prayer or direct involvement. As President and gospel minister James A. Garfield stated, "Now, more than ever, the people are responsible for the character of their Congress. If that body be ignorant, reckless, and corrupt, it is because the people tolerate ignorance, recklessness, and corruption. If it be intelligent, brave, and pure, it is because the people demand these high qualities to represent them in the national legislature… [I]f the next centennial does not find us a great nation… it will be because those who represent the enterprise, the culture, and the morality of the nation do not aid in controlling the political forces."
Praise for the Print Edition
The seed [WallBuilders' is] sowing is bringing a harvest of righteousness and countering a tide of ungodliness. Praise the Lord.
—Pastor Billy Joe Daugherty, Oklahoma
David's commitment to quality research and to making America a better place for our children shines through in all of his professional activities.
—Bill Dannemeyer, former congressman, California
[WallBuilders'] materials were the turning point for me in becoming a Christian. . . . I feel like I have been granted a new life. . . . I thank God for [them] for influencing the way my life has changed.
—Gary Sterling, presentation attendee, Texas
While watching [WallBuilders'] tape The Spirit of the American Revolution, I wept thinking how far our nation has moved away from the concepts of the Founding Fathers. . . . What can we do to get back to the founding concepts and blessings that our forefathers received?
—Sam Brownback, U. S. Senator, Kansas
Seeing how far our country has moved from its beginnings and the original intent of our Founding Fathers has encouraged me to be very active politically to try to bring about a move back to our beginnings.
—Connie Potter, presentation attendee, Washington
David's materials . . . have given me and other legislators the courage to defend the moral values that made our country great.
—Ellen Craswell, State Senator, Washington
Product Details
Title: WallBuilders American Foundations Digital Library
Author: David Barton
Publisher: WallBuilders
Individual Titles
About David Barton
Author and historian David Barton is the WallBuilders' founder and president. He is the author of numerous works on the original intent of America's Founding Fathers. Barton speaks to hundreds of groups each year across the nation, and appears on numerous television and radio programs to communicate his views on our country's religious roots and the role individuals can play in reclaiming America's spiritual heritage.
David holds a bachelor of arts degree from Oral Roberts University and an honorary doctorate of letters from Pensacola Christian College. He has been a recipient of national and international awards including Who's Who in Education and DAR's highest award, the George Washington Honor Medal. His work in media and the educational medium have merited several Angel Awards, Telly Awards, and the Dove Foundation Seal of Approval.
About Wallbuilders
WallBuilders is an organization dedicated to presenting American history and heroes with an emphasis on the moral, religious, and constitutional foundation on which America was built—a foundation which, according to WallBuilders, has in recent years been seriously attacked and undermined. In accord with what was stated by George Washington, WallBuilders believes that "the propitious smiles of heaven can never be expected on a nation which disregards the eternal rules of order and right which heaven itself has ordained."