Zondervan Exegetical Commentary on the New Testament (2 vols.)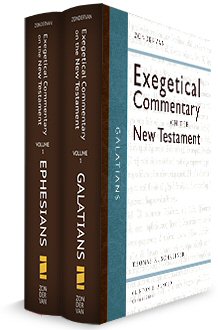 Zondervan Exegetical Commentary on the New Testament (2 vols.)
•
Runs on Windows, Mac and mobile.
Overview
Designed for the pastor and Bible teacher, this collection brings together commentary features rarely gathered together in single volumes. Written by notable evangelical scholars, each volume in the Zondervan Exegetical Commentary on the New Testament (2 vols.) treats the literary context and structure of the passage in the original Greek. The series consistently provides the main point, an exegetical outline, verse-by-verse commentary, and theology in application in each section of every commentary.
Critical scholarship informs each step but does not dominate the commentary, allowing readers to concentrate on the biblical author's message as it unfolds. While primarily designed for those with a basic knowledge of biblical Greek, all who strive to understand and teach the New Testament will find these books beneficial.
In the Zondervan Exegetical Commentary on the New Testament (2 vols.), Clinton Arnold and Thomas R. Schreiner offer pastors, students, and teachers a focused resource for reading of two New Testament books. Through the use of graphic representations of translations, succinct summaries of main ideas, exegetical outlines, and other great features, Schreiner and Arnold present Galatians and Ephesians with precision and accuracy. Because of this series' focus on the textual structure of the scriptures, readers will better understand the literary elements of these epistles, comprehend the author's revolutionary goals, and ultimately discover the epistles' vital claims upon the church today.
Since the Zondervan Exegetical Commentary on the New Testament (2 vols.) is fully integrated with Logos, Scripture passages are linked to your English translation for quick reference, or to your Greek texts for original-language study! You can also read the Zondervan Exegetical Commentary on the New Testament (2 vols.) along with your Bible dictionaries, encyclopedias, and the wealth of other Bible study tools in your digital library.
Key Features
Examines the biblical text in its original context
Provides a verse-by-verse commentary on Galatians and Ephesians
Includes thorough introductions to each epistle
Product Details
Title: Zondervan Exegetical Commentary on the New Testament
Publisher: Zondervan
Volumes: 2
Pages: 976

In his commentary on Galatians, Thomas R. Schreiner presents a brief and lucid commentary for pastors, students, and laypeople, while also attending to questions that have arisen in light of the New Perspective on Paul. Schreiner, endorsing a Reformation reading of the text, reminds readers of Paul's chief concerns in writing the letter: justification by faith, the full divinity of Christ, freedom from the power of sin through the death and resurrection of Christ Jesus, and dependence on the Holy Spirit to live the Christian life. Schreiner argues that it is not enough to read Galatians with an academic lens; we must realize that these are issues of life and death, and we must let the gospel revive us.
Thomas R. Schreiner (PhD, Fuller Theological Seminary) is James Buchanan Harrison Professor of New Testament and Associate Dean of Scripture and Interpretation at The Southern Baptist Theological Seminary in Louisville, Kentucky. The author of numerous books, he is the preaching pastor of Clifton Baptist Church in Louisville, Kentucky.

In this volume, Clinton Arnold highlights four themes that emerge in Paul's epistle to the Ephesians:
The superior power of God over against spiritual powers
The unity of Jews and Gentiles through Jesus Christ
The encouragement for Gentiles believers to live holy lives before God
The need for believers to be rooted in the knowledge of their new identity in Christ Jesus
Woven into Paul's theology is a refrain of praise and adoration to the glory of God that insists that such praise should also be our response. With attention to issues that continue to surface in today's church, this commentary offers pastors, students, and teachers a focused resource for reading Ephesians.
Clinton E. Arnold (PhD, University of Aberdeen) is professor of New Testament language and literature at Talbot School of Theology in La Mirada, California.